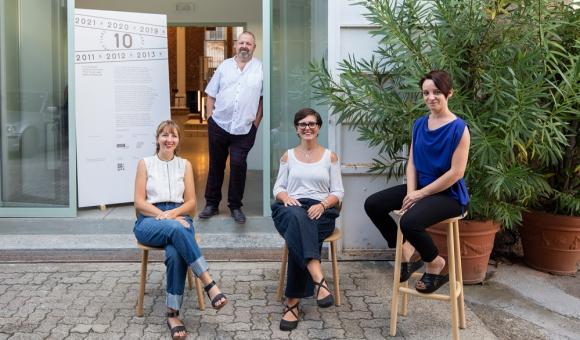 "Belgium is Design" has just participated in Milan Design Week for the seventh time. Paris, New York, Stockholm, London... Over the last ten years, this Belgian collective project for the international recognition of Belgian design has been representing and taking designers to the most popular fashion and design venues. What are the results and the lessons learned? A look back at a decade of support and work that have helped create a true Belgian design identity.
More than just a brand, "Belgium is Design" represents ten years of international projects that have helped to make our expertise known in the four corners of the world, and promoted Belgian designers, both professionals and beginners. A decade later, the dynamic is still going strong and, despite COVID-19, more than 50 Belgians have exhibited at Milan Design Week under this name, each helping to spread 'Belgitude' in the design and fashion capital.
Back to 2007... The brand new agency Wallonie-Bruxelles Design Mode held its first collective stand at the Salone Satellite, the section of the Furniture Fair reserved for designers aged under 35. They were not the only ones present at Milan Design Week, since Brussels was also involved. Under the name 'The Belgians', a joint communication was set up to promote Belgian design during Milan Week. Although the three regional agencies have long been accustomed to organising collective stands for their designers, it was in Milan that the need to speak with a single voice was felt the most. "We had to join forces to send out a strong and striking message," says Giorgia Morero, project manager at Wallonie-Bruxelles Design Mode (WBDM). This was essential in a city like Milan." It was clear that we needed to develop a strategy to maintain and gain visibility so that we could promote and support Belgian creators and designers on the international scene!
2011, Belgium is Design is founded
For the 2011 Milan Design Week, the Belgian organisers (WBDM, Flanders DC & Mad, Home of Creators) decided to exhibit in one place for the first time and communicate with one voice under the name "Belgium is Design". "This was a very good decision since it is still meaningful and topical ten years later and our designers continue to use it at international events," Giorgia explains. What have been the results?
In ten years, Belgium is Design has presented more than 130 designers and companies by organising quality exhibitions in prestigious venues in Paris, New York and Milan.
What do they think of the Belgians?
"More than a name, it's a real project, a complete strategy, especially in terms of communication," says Giorgia. After ten years it has become a reference. We now receive requests for partnerships and collaborations with foreign brands that recognise Belgian know-how."
The same is true of professional designers. "I can see it in my professional relationships; being Belgian is very well perceived, and it's flattering," said Luc Druez, who has just presented his LCD & Decluuz "Le temps des cocus" exhibitions in Milan. We are known for our work ethic, our professionalism and the quality of our relationships. People are always curious but respectful with the Belgians. They know us by reputation and we are always well received. In ten years, I can clearly see a positive difference."
With one thing leading to another, the name "Belgium is Design" has now become a real tool for promoting Belgian design internationally.
Do they think like... Belgians?
"Belgium has a real history of design, particularly linked to its rich industrial and economic past, and has always been open to the world," explains Giorgia. Belgium is well known in the world of design and has its place next to some great countries. We have less critical mass than our neighbours, but I sometimes wonder if we don't have the most designers per capita," she adds with a laugh.
"On the other hand, we have to get away from these ideas of 'national design'. Today, designers travel more and more, they soak up what they see, they have conversations... In Belgium, there are students from all over the world. They settle here and feel free in their creative process. The weight of a local culture is less strong here than in France or Italy, for example. Belgium is a state of mind. Foreign designers are often the first to say that they are 'Belgian designers'," concludes Giorgia.
About WBDM
Since 2007, Wallonie-Bruxelles Design Mode has been supporting companies and designers (Wallonia and Brussels) from the fashion and design world in their international development. This includes fashion, product design, furniture design, textile design, space design, communication design, social design and food design.
WBDM is primarily aimed at an audience of entrepreneurial designers and companies whose ambition is to expand their business abroad, and aims to support them with a team specialised in fashion and design. How? By providing them with training and advice on exporting, supporting them with the various financial support and aids and other opportunities, and prospecting for new markets via trade fairs, international events and the specialist press.
More information on the programmes: www.wbdm.be
 © Photos : Cover : Marek Swoboda - Giorgia Morero : Lydie Nesvadba- Alain Gilles : AWEX/WBDM - Luc Druez : LCD
Author : Jonathan Avau (Wallonia Export)