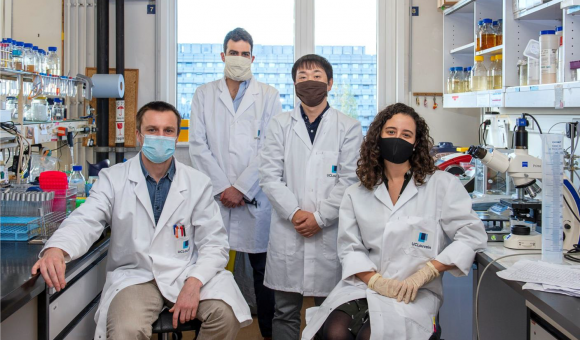 The Japanese company Kaneka and its Walloon subsidiary Eurogentec are joining forces with UCLouvain to develop a joint research group on bacteria. The aim? To better treat cancers, infectious diseases, diabetes and genetic diseases using biopharmaceuticals. 
Professor Jean-François Collet's department at the de Duve Institute, the multidisciplinary biomedical research institute hosting several laboratories of the faculty of medicine of UCLouvain (Université catholique de Louvain), is preparing to welcome new researchers, including some from Japan, at Kaneka's initiative.
This partnership between university and industry will develop bacterial strains optimised for the production of biopharmaceuticals. The academic and industrial researchers have signed a renewable three-year collaboration agreement. Three sites are involved in this collaboration: UCLouvain's de Duve Institute in Brussels, Eurogentec's production and research centre in Seraing, and Kaneka's biotechnology research laboratories in Japan.
The use of biopharmaceuticals is revolutionising medicine and offers new prospects for the treatment of diseases. Unlike chemical molecules, biopharmaceuticals must be produced with living cells, bacteria being the organisms of choice.
Eurogentec is a world leader in the production of biopharmaceuticals. Professor Collet's team, on the other hand, has been accumulating in-depth knowledge about bacteria for 15 years, which has resulted in important discoveries. His discoveries in bacteriology, published in 'Nature' in 2014, have made him known to the general public. As for Kaneka, its 50 years of experience in the development of biotechnologies have enabled the company to develop activities in fields as varied as food supplements, pharmaceutical products and biodegradable polymers.
"The partnership between our three teams is very interesting for our industrial group", confirms Lieven Janssens, CEO of Eurogentec. "It should enable us to extend our expertise in the microbial production of biopharmaceuticals and to remain the world leader in the production of DNA vaccines."
"You could compare Eurogentec to a Formula-1 racing team," continues Professor Collet. "It already has very good cars, and they must remain at the top. This is where the team of engineers, that is to say my team, comes in: thanks to the expertise we have accumulated over the last 15 years, we can optimise the performance of these cars."
The development of optimised strains should make it easier to produce more proteins and DNA vaccines, quickly and in large quantities. This will contribute to Eurogentec's strategic objectives.
The Liège-based company, which is growing rapidly, has recently made major investments. In particular, it commissioned a new state-of-the-art facility, which will enable the large-scale production of medication of the latest generation. To support the planned production of SARS-CoV-2 vaccines, Eurogentec is hiring new staff: more than 80 vacancies have been or will be published, for a wide variety of profiles, from technicians to logistics staff, researchers and project managers.
"This partnership once again proves the vitality of the ecosystem that has been developed in Wallonia in chemistry and pharmacy," says Pierre Van Renterghem, Managing Director of Welbio, an inter-university research institute in the fields of life sciences, subsidised by Wallonia, which has played a crucial role in setting up this partnership by supporting the research of Prof Collet's team since 2011.
"We are delighted to bridge the gap between academic research and industry with the help of Welbio. This allows us to respond to major societal challenges thanks to strong partnerships between Prof Collet and his team, and a major industrial group like Kaneka. It is a fine example of a technology transfer that is a win-win for the researcher and his laboratory, for the company and for the regional economy," says Philippe Durieux, CEO of Sopartec, the technology transfer and investment company of UCLouvain.
Linked events