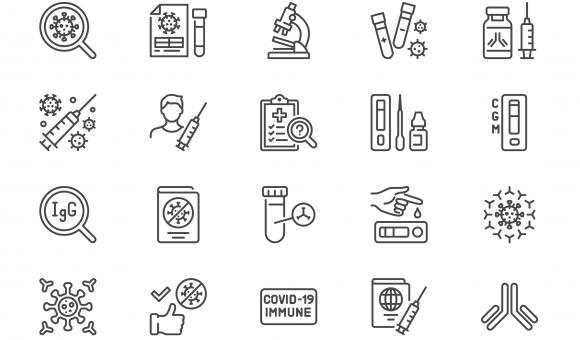 Wallonia supports innovative companies like D-Tek, a biotechnology company located in Mons, by helping them to develop within the region, but also internationally.
D-Tek is a company located in the Initialis Science Park in Mons. It specialises in developing and manufacturing diagnostic kits for auto-immune diseases in humans.
Boasting significant experience in auto-immunity, research and development skills and an understanding of what users need, D-Tek has developed innovative ranges of diagnostic kits. This expertise allowed them to launch more than 100 kits on the market, several of which were the first of their kind in the world (for example, the first kit to detect the presence of anti-nucleosome antibodies, a predictive marker for lupus).
The company's ability to innovate has allowed it to develop new ranges of diagnostic kits, such as the BlueDiver Quantrix kits, which are the first qualitative and automated microarray tests for auto-immunity, or the BlueDiver Combi kits, the only kits that allow auto-immune diagnostic tests to be customised.
Since Wallonia is a small territory, it is essential to be able to export. Companies like D-Tek can then rely on the support of AWEX, both for prospecting activities and participating in the agency's various activities (invitations to foreign stakeholders, trade fairs and exhibitions, industry meetings).
The combination of expertise, high-quality products and consistent innovation means that D-Tek kits are marketed internationally via a network of experienced distributors.
Wallonia has created an entire support ecosystem for innovative companies in its cutting-edge industries, such as life sciences. This ecosystem makes it possible to offer them multi-channel support: universities, research centres, competitiveness clusters and contacts with various regional stakeholders.
In the case of D-Tek, in addition to the help with exports that AWEX provides, they were able to rely on the support of several external stakeholders, such as SRIW, for financing and research. They are developing cluster projects with several partners.
In light of the Covid-19 crisis, it was impossible for D-Tek to work with far-away countries like India or Pakistan; however, connections with a diversified network of distributors allowed them to cushion the blow in European markets and markets outside Europe.
Remember, in the midst of the Covid-19 pandemic, the Mons-based company developed a serological diagnostic kit to detect five antibodies that are specific to SARS-CoV-2, which is responsible for Covid-19. These were initially developed for Research Use Only (RUO). A 100% Walloon development (thanks, in particular, to the active and effective participation of CHU Ambroise Paré, UMons, Materia Nova and CHU Tivoli).
Further proof that Wallonia is home to many innovative companies, which elevate Walloon expertise to the global stage.