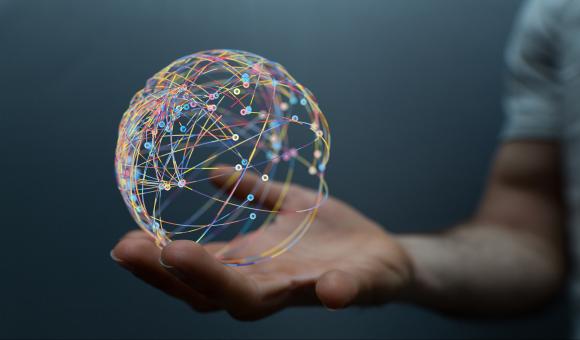 Due to coronavirus, the Consumer Electronics Show (CES) which is held every year in Las Vegas, was entirely virtual this year. Namur start-up Sunrise won an Innovation Award Honoree in the Health and Wellness category for its medical device for people suffering from sleep disorders. This year, Wallonia has been focusing on the Francophone Village, organised in parallel with this major international electronics trade fair.
Instead of the restrictive sleep tests performed at night in hospital, the small sensor weighing just 3 grams, developed by Sunrise and connected to a mobile application, allows patients to test themselves at home by placing it on their chin with a small adhesive before going to sleep. The next morning, the patient and the doctor of their choice receive a detailed report. The sensor's intelligence lies essentially in the analysis of the micro-movements of the chin produced by the contraction of the respiratory muscles during sleep.
The Sunrise sleep test is marketed in Belgium, France and the United Kingdom. "In one year, we have already sold several thousand sensors," says Laurent Martinot, CEO and co-founder of Sunrise with his brother Pierre. "It is an honour to receive this award after several years of research and development. This recognition gives us global visibility and the confidence to continue to offer medical quality tools with the aim of making them easy to use and accessible to all," he says.
The Francophone Village was held from 12 to 14 January, in parallel with CES 2021. The Walloon Export-Investment Agency (AWEX) and the Digital Agency (Digital Wallonia) had offered Walloon start-ups the opportunity to join this international acceleration programme, which is held alongside major world events such as the CES in Las Vegas, VivaTech in Paris, Smart City Expo WC in Barcelona, Hannover Messe and Batimat in Paris.
In the context of the current crisis, it brings together in a phygital (physical and virtual) way, depending on the health situation of each country, a whole network of stakeholders and decision-makers in digital Francophonie (19 countries, 85 regions and territories, sector-based and technological collectives, several hundred start-ups and investors). A major meeting point for digital industries in the French-speaking world, it enables participants (delegations, politicians, companies, start-ups, investors and decision-makers, etc.) to meet and develop their professional network among French-speakers, meet global decision-makers in their sector and be the first to discover world innovations.
Consult the map of connected studios and territories
Eighteen Walloon start-ups applied to participate in the pitching competition organised in three thematic sessions. The winners can be found here:
Nine were able to defend their project in 90 seconds, and Invineo, "the Nespresso of wine" won the "Tech4Bizz" session with its perfectly managed, perfectly served wine by the glass.  
For Michel Bricteux and Guy Vanpaesschen, the two AWEX representatives who organised the Walloon presence in the Francophone Village, the #VF2021 operation brought real added value to the start-ups. "They gained visibility and connections with all the French-speaking ecosystems (decision-makers, investors, etc.) that will help them to develop internationally. There was also a competitive spirit between Walloon start-ups." It was an experience that will be repeated.
Walloon nominees and jurors at the Francophone Village CES 2021
Company that gives a voice to all products and services, inventing voice solutions to give voice to content and enhance user interfaces in a natural and intuitive way
7000 Mons
Municipality of Profondeville, comprising the entities of Arbre, Bois-de-Villers, Lesve, Lustin and Rivière
5170 Profondeville
Project for a collaborative, decentralised platform for cashless and ticketing management
5002 Namur
Manufacturer of road signs, specialising in street furniture and safety equipment
5380 Fernelmont
Digital signage platform through a connected, integrated and interactive solution that allows local businesses and institutions to create and manage content from any screen
4000 Liège
The company works in high quality images, and is developing technology that makes it possible to compress and then restore an image without loss of quality
1435 Corbais
Smart, connected wine dispenser: provides several simultaneous services, automatically cools each wine to its ideal temperature, protects the wine from oxidation, without the addition of food gas, simplified control screen, automatic data logging
5300 Andenne
KIKK is an association for the promotion of digital and creative cultures. The organisation creates bridges between the worlds of art, science and technology through the organisation of events and educational projects and the production of artistic works and creative projects
5000 Namur
La Libre Belgique, commonly referred to as "La Libre", is a Belgian daily French-language newspaper that covers all national and international news. It is one of the two mass-circulation Belgian French-speaking newspapers, along with Le Soir
1040 Brussels.
Digital agency specialised in the collaborative design of solutions to boost the growth of companies: customised mobile and e-commerce applications, marketing support: brand strategy, brand design, user experience, etc.
5000 Namur
Development of tools for creating interactive video events on the web: creation of multi-camera video production, recording and broadcast of live events, live streaming, creation of e-learning materials, consultancy, analysis and writing of "Media" projects, etc.
1370 Jodoigne
Ma Balise uses "contactless" technology for marketing: connects brands and consumers at the right time and in the right place via notifications but without being intrusive
4000 Liège
A collaborative cross-media storytelling agency, Memovie's approach is aimed at clients who want to be supported throughout the process of promoting their heritage, know-how and memories
1300 Wavre
Solutions for the New Normal. Engagement Insights: face analytics in teleworking and distance learning. Augmented Reality: experiential marketing and e-commerce with virtual testing. Artificial intelligence with respect for privacy
1400 Levels
Waste sorting and recycling solution: design of smart public bins for automatic sorting, with at least three compartments (waste, paper, general)
7033 Mons
Team specialised in data analysis for digital and non-digital media and entertainment (video games, social networks, etc.). Development of CasterStats (audience monitoring), MetriCrowd (sound environment recording) and TraxFlow (link between music producer and broadcaster)
4400 Ivoz-Ramet
Development of immersive experiences for touch screen, augmented reality and virtual reality. The company records companies' key components and translates them into a 360° experience
4650 Herve
Innovative ingredients and solutions for bakers, confectioners and chocolate-makers
1702 Dilbeek
Online magazine dedicated to IT and digital in Wallonia and Brussels
5310 Eghezée
Community application to find out parking arrangements and the risk of inspections in and around the area
1000 Brussels
City of Andenne, comprising the entities of Bonneville, Coutisse, Landenne, Maizeret, Namêche, Sclayn, Seilles, Thon and Vezin
5300 Andenne
City of Namur, comprising the entities of Beez, Belgrade, Boninne, Bouge, Champion, Cognelée, Daussoulx, Dave, Erpent, Flawinne, Gelbressée, Jambes, Lives, Loyers, Malonne, Marche-les-Dames, Naninne, Saint-Marc, Saint-Servais, Suarlée, Temploux, Vedrin, Wépion and Wierde
5000 Namur
AGC Automotive Europe's dedicated entity for the autonomous vehicle ecosystem: supply of transparent infrared automotive glass for vision, non vision and LiDAR glazing, custom design of parts for LiDAR integration, and LiDAR global integration with its partners
6220 Fleurus
Wallonia Space Logistics nurtures projects that call for high-level skills in the field of engineering sciences. It helps researchers to turn their ambitions into reality and build businesses in the most realistic, secure and competitive way possible.
Source : La Libre et Digital Wallonia
Linked events