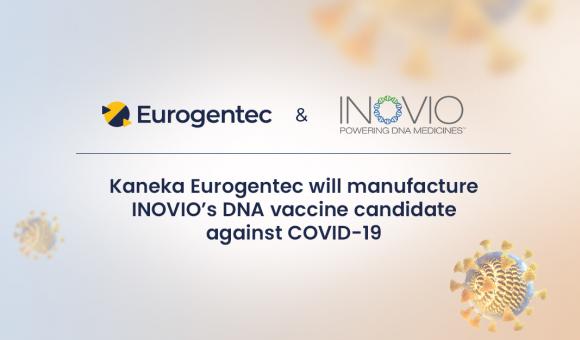 The Liège-based company Eurogentec, subsidiary of the Japanese firm Kaneka, and specialised in the production and developpement of biomedicines, has juste signed an agreement with the american group INOVIO to manufacture its COVID-19 candidate, INO-4800.  The new state-of-the-art production unit in Liege contains a brand new 2200 L fermentor to achieve high volumes of vaccine.
The US company INOVIO has assembled a global coalition of collaborators, partners and funders to rapidly advance the development of INO-4800, a DNA vaccine against the novel coronavirus SARS-CoV-2. 
INOVIO's President & CEO, Dr. J. Joseph Kim, said, "Our partnership with Kaneka Eurogentec, one of the world's largest and most experienced plasmid manufacturers, provides additional scale to our growing global manufacturing coalition. Kaneka Eurogentec will be a crucial member of INOVIO's global manufacturing consortium, supporting our plans to produce, manufacture and scale our COVID-19 candidate, INO-4800." DNA plasmid is the active pharmaceutical ingredient of DNA vaccines, as well as the key starting material of mRNA, new generations of vaccines. DNA and RNA therapies are very promising new technologies to prevent and treat diseases such as pandemics, orphan diseases, cancers, infectious diseases and genetic disorders.
INOVIO's Senior Vice President of Biological Manufacturing and Clinical Supply Management, Robert J. Juba Jr., said, "Kaneka Eurogentec brings a wealth of DNA plasmid manufacturing expertise and innovation to INOVIO's global consortium to manufacture INO-4800. We look forward to working with them to utilize their state-of-the-art, large-scale manufacturing capabilities towards our goal of producing hundreds of millions of doses of INO-4800 for worldwide distribution."
Spin-off the University of Liege, Eurogentec is considered as the world leader in Kg-scale biomanufacturing of GMP DNA plasmid for gene and cell therapies. In 2010, the company, renamed Kaneka Eurogentec, became part of Kaneka Corporation, a large Japanese chemical company focusing on technology and innovation.
Kaneka Eurogentec plans to recruit 80 new colleagues in the Sart-Tilman Science Park in Seraing to support the production activities related to COVID-19 vaccines.
INOVIO is conducting a Phase 2 segment of its planned Phase 2/3 clinical trial for INO-4800, its COVID-19 vaccine candidate. The planned Phase 2/3 clinical trial, called INNOVATE (Inovio INO-4800 Vaccine Trial for Efficacy), is a randomized, blinded, placebo-controlled safety and efficacy trial of INO-4800 to be conducted in adults in the U.S.
Linked events