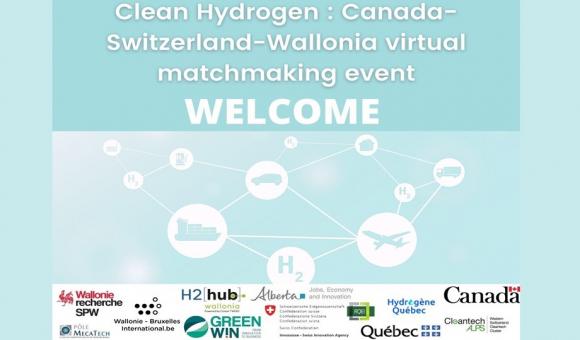 More than 140 professionals active in the field of Hydrogen - from academia to industry - gathered on September 29 for an international R&D networking event organized under the umbrella of Wallonia-Brussels International (WBI) and its scientific liaison officers from Canada and Switzerland.
This high-level technical event was organised by the Research & Innovation department of WBI, in close collaboration with the Walloon ministry of research (SPW-EER), the GREENWIN, Mecatech and TWEED cluster as well as the National Research Council of Canada, the Ministry of the Economy and Innovation of Quebec, Hydrogene Quebec, the Quebec Network on Intelligent Energy, the Ministry of Jobs, Economy and Innovation of Alberta, the applied research promotion agency Innosuisse and the Swiss cluster in environmental technologies CleantechAlps.   
The participants had the opportunity to listen to 14 tailor-made pitches from companies, universities and research centers active in the fields of hydrogen production, distribution and storage (presentations are available at the end of the page). No less than 140 people were present, underlining the significant interest of the participants in hydrogen technologies.
The speakers had the chance to present their technological and industrial expertise related to clean hydrogen. Among the presentations, we can mention Certech (BE); McGill University (Canada); MobyFly (Switzerland), or the Walloon industrial company John Cockerill.
Following the pitches, the participants met in small groups in virtual chat rooms. The first breakout room focused on hydrogen production, while the second focused on hydrogen storage and distribution. Moderated by Cédric Brüll (Cluster Tweed) and Marie Lapointe (Hydrogen Quebec), the breakout sessions brought together 65 and 40 people respectively. These sessions allowed participants and speakers to have informal discussions in order to deepen certain areas of expertise or to establish contacts and potential partnerships. The needs and expectations of the participants were diverse and varied, ranging from project prospection to funding opportunities between Canada, Switzerland or Wallonia.
"The added value of such an activity is crucial for our members" believes Cédric Brüll, director of the TWEED cluster. ''Not only did they have the opportunity to showcase their expertise during the pitch sessions, but they were also able to identify potential R&D or commercial partners in Canada and Switzerland, and discuss with them in depth during the breakout sessions'. We look forward to following the concrete results of these initial discussions and are already working hard to renew the experience with WBI's Research and Innovation department.''
This event was organized in the context of the establishment by the Research and Innovation department and the network of WBI scientific liaison officers of targeted networking activities in strategic innovation areas. These activities aim to connect the Walloon innovation ecosystem with its priority partners and support research and innovation partnerships with international partners. As a reminder, a similar event was organized earlier in the year, in the field of materials for the batteries of the future.
Presentations