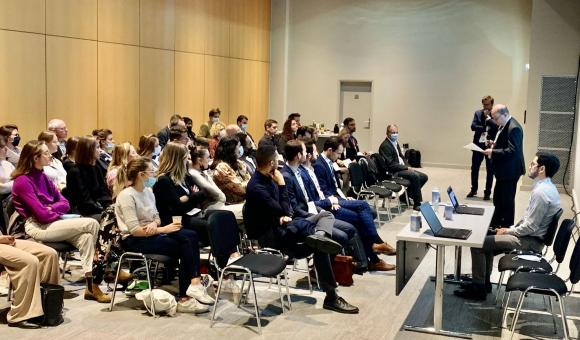 This event took place on October 13 during the Pollutec Lyon 2021 trade fair.
The Axelera (France), Cleantech Alps (Switzerland) and Greenwin (Wallonia) clusters, co-organized with the Wallonia-Brussels International scientific offices (SLO) of Lausanne and Paris, a technological networking event in the field of renewable energies in the context of the largest environmental technologies fair in Europe: Pollutec Lyon.
After a brief introduction, the organizers presented the Eureka/Eurostars calls for projects and 5 Horizon Europe calls (CL4 / CL5 / CL6). Then, Walloon, French and Swiss companies presented their technological offers / requests. The event ended with informal networking at a reception offered by AWEX and FIT on the Belgian stand at the show.
About twenty Master 2 students from the Higher School of Business and Responsible and International Development (ESCD3A Lyon) also participated in this event as part of their regional economic development courses.
Participants
Suisse
Mobbot SA : Start
Neolec
Wallonie
CRM Group
Indrabel
Celabor
France
Lactips
Sarpi-Veolia
Ecobird
Bioentech
Presentations
All presentations are available as attachments.