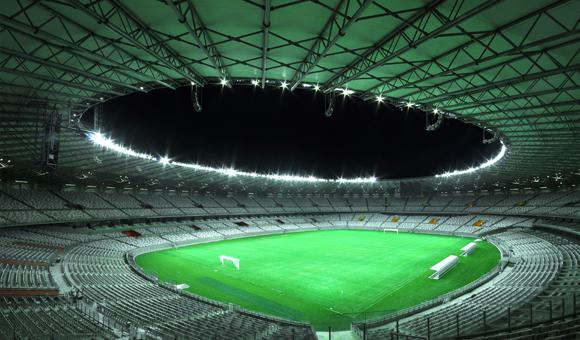 Recognized for their capacity of innovation, the Walloon companies are more and more involved in the framework of major sporting events. For example, numerous cutting edge technologies developed in Wallonia will  be used during the Football World Cup in Brazil.  Let us take a closer look at SCHRÉDER.
The Schréder group specialises in sporting facility lighting and has used all of its expertise to meet the requirements of several Brazilian stadiums during the event, including the Maracaña Arena, the Mineirão Stadium, the Estádio Nacional and the Arena das Dunes.
Schréder has cooperated with the Lumière Arquitetura design office to provide full, sustainable lighting to the whole of the Mineirão Stadium in Belo Horizonte, the second largest football stadium in Brazil. Refurbished in 2013 to host the 2014 FIFA World Cup, it will also host the 2016 Summer Olympics.
The lighting will meet the players' lighting requirements and also minimise light pollution and spectator dazzle. It also meets the strictest criteria imposed by high definition televised transmissions and will make for optimum image capture for televised retransmissions. Television viewers the world over will therefore be plunged right into the heart of the action. Schréder will also illuminate the stadium entrance with a dynamic LEB RGB solution, including all floor-mounted monuments.
Schréder will also provide outdoor LED lighting solutions to the Maracaña Arena in Rio, a reference and a symbol for the Brazilians, who, inter alia, will host the competition final. These solutions will enable the many spectators to go to the matches and return home safely. The Walloon company has also illuminated the stadium entrance, increasing the festive spirit experienced at major sporting events.
And the group will illuminate other monuments as well, including the entrance to the Estádio Nacional, the surroundings of the Arena das Dunes and the different bridges built to facilitate athlete and visitor movement between airports and sporting venues.
These LED lighting solutions will create settings which are safe and attractive, yet reduce energy consumption. They indeed attracted the attention of the organisers of the Sochi Olympics already last January.