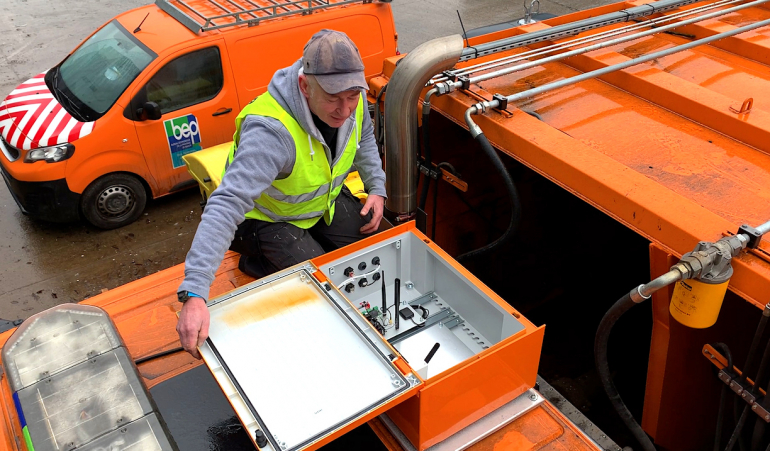 Did you say "Smart City"? In Namur, the "smart" city, or rather the "smart" province, has just added a string to its bow. Some of its fleet of waste collection trucks were recently equipped with a series of sensors. Their mission is to map the white areas in the province. That is to say, parts of the territory where wireless telephone networks do not reach or do not have good reach. The truck fleet travels throughout the province once or twice a week to collect accurate, reliable and regularly updated data for creating accurate and up-to-date maps.
Plenty of data
"Data is what we rely on to build the smart city," Nicolas Installé of FuturoCité recently reminded us at the Smart City Expo World Congress in Barcelona, where participants led by Awex (the Wallonia Export-Investment Agency) and WBI (Wallonia-Brussels International) were present. "But this data must be accessible and usable, to promote the economic and social redeployment of a territory," said the director of this Mons-based technological innovation centre in the "Smart Cities" sector.
The Bureau économique de la province de Namur (BEP) is convinced of this.  Public access to data has been widely advocated for years. This is part of the BEP's DNA, as confirmed by François Laureys, geographer, project manager in this institution and initiator of the sentry truck project.
Assessment of air quality
"The part that tops the sentry trucks can accommodate a series of sensors," explains François Laureys. "We started by placing antennas there that analyse 2G, 3G and 4G signal quality and communication quality. This data is collected through a partnership with BIPT, the Belgian Institute for Postal Services and Telecommunications."
"Other sensors may be added to the sentry trucks in the future, particularly sensors designed to measure air quality. Such studies take place sporadically in Wallonia, on request. The ISSeP, the Scientific Institute for Public Service, is the architect of this. It has (semi-)fixed stations to conduct this monitoring. On occasion, the Institute also uses mobile sniffer vehicles rented from a private company. With our sentry trucks, this type of measurement could be carried out every week, without additional costs," says François Laureys.
Detecting potholes
In the near future, a 3D camera will also be placed on one of these trucks to determine if it is capable of detecting potential problems such as potholes in the road. This test will also use embedded artificial intelligence (AI). Obviously, it will not transmit weekly images of kilometres of roads to road managers. Only the most relevant data, involving sections with a real problem, should be transmitted.
The AI will first have to be trained to detect holes in the road. It will then determine, based on the lighting and weather conditions, whether a suspicious structure is a new pothole or simply a puddle or other type of commonplace reflection on the road.
Public data
"With the sentry trucks, the idea is also to make this data freely available," says François Laureys. "Agreements to this effect have been signed with our partners. They have access to this data, but then it is made public for free."
We understand the added value of data for territory management, but how can citizens use it? For example, by consulting Open Data Wallonia-Brussels, the official portal of open access data in Wallonia and the Wallonia-Brussels Federation, which allows people to find openly accessible datasets.
Or by using an application such as "Ma commune en poche" or "Wallonie en poche".
The masses of data available or still to be collected and cross-checked are also sources of innovation. New service projects are regularly created. Like this future application called Safe, created by four developers from the Liège region. It allows people to choose the safest walking route to get from point A to point B. "It is an application that creates safe routes using databases of unsafe events, such as altercations or assaults recorded in the city," says Ionnis Fountanellas, one of the project's founders. "The system is also powered by a user community-based reporting system, much like Waze for motorised travel," he says.
Data for the community? At the Smart City Expo World Congress as in Wallonia, innovation is at the end of a keyboard.
Source: article by Christian Du Brulle for Daily Science.