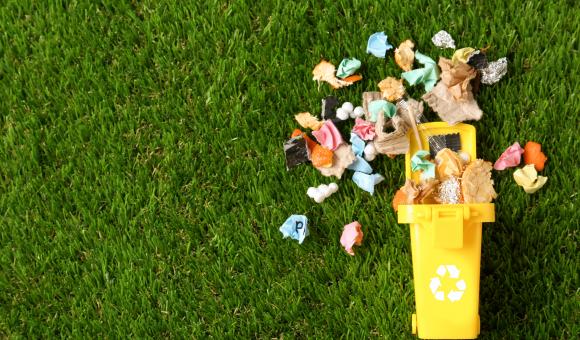 Disposable nappies for children and adults, and sanitary towels: they represent 8% of household waste and a major challenge for the environment on a global scale. A study is underway in Mons to recycle them. AMB Ecosteryl, a specialist in the treatment of medical waste, is meeting the "Plastics Go Green and Circular" challenge launched by Wallonia, with the support of the European Union, which aims to promote circular economy practices in the plastics sector.
Of the nine projects selected by Wallonia as part of this challenge, two are being supported by the Mons company located in the Initialis Park. The objective? To develop new solutions for the recycling, reuse, design and production of plastics.
The first project developed by AMB Ecosteryl involves the decontamination of FFP2 and surgical masks. The machine they developed last May to cope with the shortage of masks, M-Steryl, is a sort of large oven that decontaminates the masks in two hours using high temperatures (100 degrees).  They have sold them in North America and the United States[T1] [DP2] . Mask stocks have been replenished since then, but the ecological challenge remains. "A lot of education is required among healthcare personnel and the public. We are thinking about setting up a process to collect the masks and support the process rather than just providing the technology," explains Romain Dufrasne, the company's director.
The second project, led by the territorial development agency IDEA and under study at AMB Ecosteryl, involves the disposable nappies that build up in crèches, homes, hospitals and private homes. AMB Ecosteryl, which already uses shredding technology and industrial microwave processing to recycle medical waste, is considering applying it to this type of waste. "The challenge is to separate the organic elements and collect the cellulose and polypropylene (plastic). We are at the initial stage of the project, but want to bring meaning to this type of waste, which represents a significant amount on the market. And find ways of reusing this waste," says Romain Dufrasne.
 [T1]en Amérique du nord et aux Etats-Unis?
Linked events