Some applications
All entities that want to can adopt the Wallonia.be graphic charter and use an aura belonging to them.
The graphics that have been chosen for Wallonia.be are very open. They offer all Walloon entities that want to the possibility of becoming part of this global campaign to highlight Wallonia's strengths. There are three methods of application:
The entity is happy to display the generic Wallonia.be logo on all advertising media, set back from its own logo.
The median method or co-branding
The entity positions the Wallonia.be on an equal footing to its own logo.
The major method or complete rebranding
A concrete example: AWEX, the Walloon Export and Foreign Investment Agency has changed its visual identity since the beginning of November, adopting Walloon's branding. The Wallonia.be logo is adapted to the competence of the entity concerned.

An entity that undergoes rebranding can also take on a specific aura referring to the visual language of Wallonia.be while having its own graphic framework. The principle of creating auras, in fact, rests on an algorithmic system that makes it possible to create an infinite number of possible options.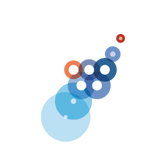 The aura that has been created for AWEX uses the colours of the former logo and also retains the dynamic shape (an arrow).