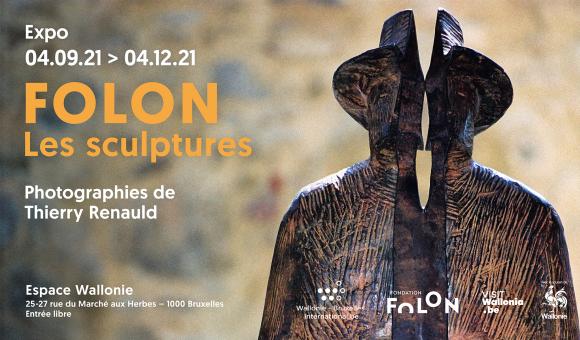 This autumn, Wallonia-Brussels International is honouring the sculptures of Jean-Michel Folon, seen through the eyes of his friend, Thierry Renauld. This brand new exhibition brings together around 50 photographs taken by the Brussels photographer between 1995 and 2020, at the Espace Wallonie, rue du Marché-aux-Herbes, in Brussels.
One day in 1995, quite by chance, Thierry Renauld discovered the first sculpture exhibition by Jean-Michel Folon in Brussels, at the Petit Sablon. He was deeply affected, and some weeks later gave the artist a small collection of photographs of the sculptures, accompanied by a sensitive text written by one of his friends, Jean-Claude Georges. Folon was exhilarated by this way of looking at his creations and asked Thierry Renauld to photograph his major sculpture exhibitions from then on.
Talking about his collaboration with the photographer, Folon wrote, "Sometimes something happens that gives meaning to your creations. Meeting Thierry Renauld was an extraordinary moment for me, he had read my thoughts (...) When the sun caresses my sculpture, it gives it a different life from the next moment. When Thierry's eyes look at a sculpture, they follow the path of the sun. His gaze listens to the light. Through Thierry Renauld's gaze, my sculpture could be read as if it were improvised poetry."
Practical Information
Free entry
Opening times
From 4 September to 31 October:
Tuesday to Saturday from 11am to 1.30pm and from 2pm to 6pm
Public holidays from 1pm to 6pm (except Sunday and Monday)
From 1 November to 4 December:
Tuesday to Saturday from 10am to 1.30pm and from 2pm to 5pm
Public holidays from 1pm to 6pm (except Sunday and Monday)