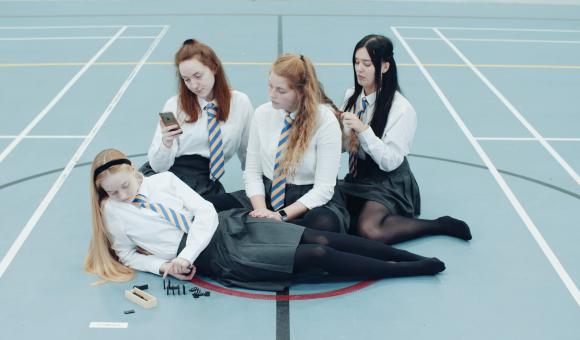 IKOB – Museum of Contemporary Art is pleased to present "Gesticulating... Wildly", the first institutional solo exhibition of Rotterdam-based artist Helen Anna Flanagan.
The video- and installation-based presentation brings together Flanagan's Gestures film trilogy (2019-2020) for the first time, in which the artist positions characters in a particular public space and causes them to collide in peculiar ways. Echoing this choreographed approach, her films are embedded within a playful installation in IKOB's exhibition space. Elements such as minimal brick walls, floor markings and sculptural works that draw from various film scenes simultaneously structure and unsettle the viewer's experience. Flanagan's primary concern is the exploration of how and why people act in certain ways, leading her to imagine how different characters might relate and react to the underlying structures of society and power. 
This exhibition takes place following the 2019 IKOB Feminist Art Prize, where a jury chose Helen Anna Flanagan for the first prize, leading to the invitation for a one-person exhibition at IKOB.