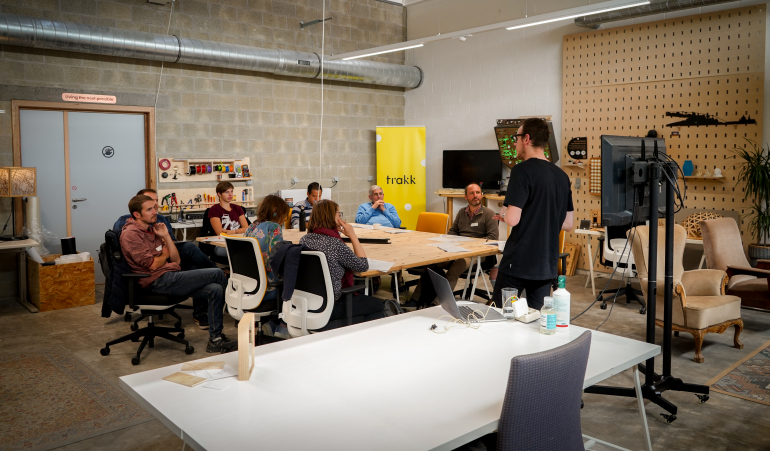 In addition to the international showcase that the KIKK Festival offers to technology companies, the festival of creative and digital industries also highlights the entire Walloon creative ecosystem. It is a rich ecosystem structured around several creative hubs whose shared DNA is collective intelligence. Mixing and blending audiences, bringing together people and professions that would probably not have met without these places for sharing and mutual support, is one of the main ingredients for this recipe to work, for ideas to emerge and then come to life.
These creative hubs are truly the heart of the creative ecosystem in Wallonia. There are nine hubs spread throughout the region: the Green Hub (Luxembourg), the Plug R (Liège), the Seraing creative hub, the Verviers creative hub, the Open Hub (Louvain-la-Neuve), the Hub-C (Charleroi metropole), the Click in Mons, the Wap's Hub (Picardy Wallonia) and the TRAKK in Namur.
These hubs offer co-working spaces, coaching and pitching sessions as well as expertise and tools, both literally and figuratively, such as the MediaLab and the ProtoLab in Namur. "The ProtoLab provides start-ups with equipment such as a 3D printer or an electronic milling machine so that those who are starting out can prototype their concept," explains Nicolas Wénin, Head of TRAKK (by KIKK).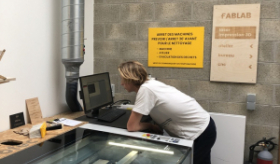 The MediaLab is a media laboratory where artists, communicators, marketers and entrepreneurs meet. Like the ProtoLab, it is a place for collaboration, learning and development, for example in sound or augmented reality, where all those wanting to do so can come and put their ideas into shape.
What is the purpose of these hubs? In addition to providing tools, they first and foremost offer spaces for entrepreneurs to meet the public, researchers, students and public representatives and so reveal new ideas and possibilities.
It is this collective intelligence that seems essential to innovation. At least this is what emerges from the research conducted by Véronique Dethier, researcher at UNamur and project manager at TRAKK, whom we met at the KIKK Festival in Namur. In the framework of her thesis, she studies creative processes and creative spaces within a creative hub such as the TRAKK in Namur.
"To create, we need divergences and convergences, one thing but also its opposite," she explains. "These polarities are essential to the creative process and I have identified four that are experienced at TRAKK."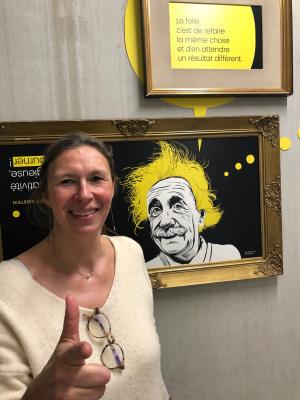 Permanence versus variation
The whole point of structures like TRAKK is to offer a permanent contemporary space where people can create while meeting people from all walks of life who pass by and bring a fresh perspective and the originality required for inspiration.
Depth versus lightness
In a creative hub, we enjoy real expertise thanks to the presence of highly technical individuals, while leaving room for the human, friendly side. "We discuss, we learn and therefore we work as much in front of the coffee machine as we do at the computer," explains Véronique. "This is one of the great lessons learned from lockdown, that virtual meetings have their limits, and face-to-face is really necessary for creation." By organising drinks or barbecues, the hubs strengthen the links between people, which creates real mutual aid. Not to mention that it is more enjoyable to come to work when the atmosphere is good and the setting is pleasant. 
Densification versus expansion
At TRAKK, we notice that on the one hand, people become closer in meeting spaces such as the kitchen, the coffee machine or the ProtoLab - these are places where people mill around and talk, where there is a buzz - and on the other hand, people express their need for volume, which they also find in this type of place. Large volumes and large spaces allow you to think bigger, go further and take on bigger projects.
Light versus shadow
The process of creation is shadow work, where we proceed by trial and error, starting over and starting over again, but it also needs light. "The hubs organise pitching sessions, for example, which allow start-ups to showcase their concepts and products, like here at the KIKK Festival, which is a great showcase for that."
By offering all these ingredients and their opposites in one place, these creative hubs bring real added value to those who dream of entrepreneurship. "It is this effervescence and innovative ecosystem that have allowed start-ups like Spade, for example, to expand their service offering." This communication agency has developed a Minotaur method that allows clients to physically view their website under construction.
And Kingsize, a creative studio specialised in branding that has benefited from the KIKK and TRAKK spotlight and now works with big names like Mosaert (Stromae's brand). This is proof that the recipe works and that Wallonia has everything it needs to take on entrepreneurship and transform our wildest ideas into the most beautiful projects!
Linked events