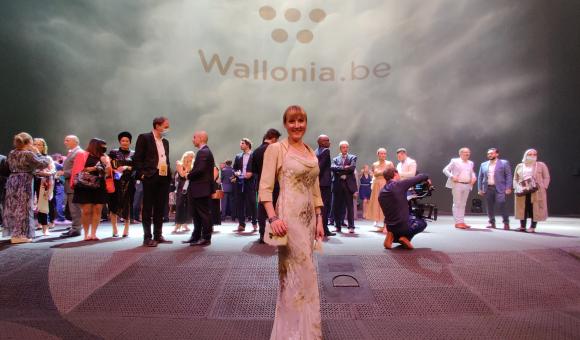 Less known on the global tourism map than its northern neighbour or cousins, France or Germany, Wallonia still has many assets to promote, in particular with Gulf country nationals. Wallonia-Brussels Tourism & several DMCs (destination management company) operating on Walloon territory have taken advantage of their presence at Dubai as part of the universal exhibition to present the challenges for the region (again) and the specific expectations of these very prized travellers.
Wallonia, popular destination among Gulf countries?
The first good news is that Wallonia is well served in terms of air transport. Emirates Airlines and Ethiad Airlines are two companies that offer direct and regular links with Belgium from Dubai and Abu Dhabi. In 2019, Wallonia has seen 12.2% growth in arrivals from the United Arabic Emirates (UAE) (+-7,800 seats or potential customers per week).
In terms of the number of tourist night stays from the UAE, there's still lots of potential to develop. Night stays recorded in Wallonia in 2019 were 1,906, or 20 times less than a market like China for example. There is a real opportunity to be seized for Walloon tourist operators who have all the qualities to appeal to this well-off and demanding clientèle who are always looking for new adventures and unusual discoveries.
What are the assets that Wallonia can promote?
Wallonia offers many activities for families such as walks in the countryside, castle tours or theme parks to vary the enjoyment and take advantage of pleasant weather, far from the sweltering heat of the Gulf region during the summer months.
The region can also count on its well-developed equine sector to attract the many racehorse lovers in the Emirates. Horse-riding courses or the horse museum in Spa are assets that are gradually being promoted to attract this niche clientèle with very strong purchasing power.
The Walloon golf courses are another card to play with Emirati tourists who are often fans of this sport. The offering in Wallonia is very ample and provides for wonderful sports, nature and cultural discoveries.
To summarise, Wallonia-Brussels Tourism has identified 3 areas of attraction for the Gulf clientèle: 
- Recreation: nautical attractions (Eau d'Heure lakes for example), recreational centres (more specifically the Euro Space Center), recreational parks, the Spa-Francorchamps Racing Circuit and golf courses.
- Nature: the many nature reserves and animal parks such as Pairi Daiza or the Han Caves and race horse stud farms.
- Culture: castles from all ages, citadels, little villages such as Durbuy, Dinant or La Roche, as well as historical monuments (Waterloo, Bastogne) and certain world-class museums.
Meet & Greet with the DMC Evguenia Boyko
We were able to meet Evguenia Boyko, CEO of Evangelo Belgium, a DMC (Destination Management Company) offering unique tours and experiences in Belgium and Wallonia for high-end clientèles in the Russian, Chinese, American and recently Gulf country markets. Present in Dubai for the Walloon week organised in the Belgian pavilion of Expo Dubai 2020 and the sectoral mission, Eugenia Boyko taught a master class directly addressing the assets and improvements to be implemented to stimulate and grow tourism from the United Arab Emirates to Wallonia.
AWEX: Hello Eugenia, we would like to ask you what the arguments are in favour of Wallonia that you put forward to appeal to the Emirati public?
Eugenia Boyko: Firstly, I immediately talk about openness and diversity that the region offers. In this small region, you can go on 'nature' excursions with very beautiful landscapes to see, visit a rich historical heritage, do indoor & outdoor sport and visit charming towns like Dinant or Durbuy, which are all within a short distance of each other. In one or two days you can do a large variety of things. The Walloon's openness leaves visitors with a pleasant, welcoming impression and the fairytale is complete! People from Belgium don't necessarily see it but for our customers it works very well.
AWEX: And the second?
EB: The abundant historical heritage, from all ages. Did you know that we are the country in the world with the highest concentration of castles per inhabitant? Beyond this amusing anecdote, we mustn't forget what the international public is looking for when they come to Europe. Many search for beauty, impressive sights, sometimes with a little kitsch, but authenticity and a change of scenery. With the region's Mediaeval postcard image, in my opinion there's an asset that we can promote better than we are doing at the moment.
AWEX: Overall, we're a destination for everyone?
EB: Exactly. Thirdly, I'd emphasise the importance of the variety of leisure activities and services available. Unlike certain destinations which are specialised towards a certain type of consumer such as Ibiza, Scotland and certain Scandinavian countries, Wallonia targets all types of visitor: Couples, families and business travellers for short and long stays. This is an asset that we should highlight with the Emirati clientele which travels regularly in families, but for long periods which could also combine business travel and a romantic getaway on the same holiday.
AWEX: But what sets us apart from our neighbours like France, whose reputation needs no introduction, or Germany? Do we have another type of tourism to offer?
EB: Tourism of experience and proximity. This type of mass tourism journey back in time offers visitors true immersion with the culture, traditions and inhabitants of the region. Here, many travellers seek out 'experiences', in particular by staying in hotels or ecolodges nestled at the heart of nature, heritage or culinary tours, meeting tradespeople, producers, restaurant owners, etc. Here Wallonia has great cards to play with its famous and delicious gastronomy that is accessible to all and leaves no one indifferent. It's very easy for foreigners to discover our culinary heritage. The offering is very well developed, there are Michelin starred restaurants and discovery workshops open to all, with the possibility of personalising them for this type of traveller.
AWEX: Thank you for your time, Evguenia. This is my last question but it's very important: what can Wallonia do to improve its offering and visibility with a demanding international audience like the Emirates?
EG: It's true that 'tourist' Wallonia must sell itself better and promote its essential hotspots. Wallonia must accept that it will never be a destination like Paris or Venice, and that's not a bad thing. It must understand that this type of audience that is demanding in terms of 'services' is looking for new destinations. Let's not forget to put ourselves in the shoes of the audience we're targeting. If the region had a 'high-end' infrastructure that were a little more developed with bespoke services, I think that it would have all the assets to become a 5-star destination.
Wallonia et Expo DUBAI 2020
Wallonia Belgium Tourism will offer a day's 360° immersion in Wallonia. The morning will be devoted to a workshop for the press and professionals in the tourist sector. This workshop will present the Wallonia's tourist assets and Visit Wallonia, the new brand set up to revive the sector after the Covid crisis. The Gardens of La Molignée will be present as well as the Euro Space Center and the Darcis Chocolat Workshop because tourism also means gastronomy and culinary pleasures.
Photos: Jérôme Van Belle (AWEX/WBI) & Evangelo Belgium
Author : Jonathan Avau (Wallonia Export)