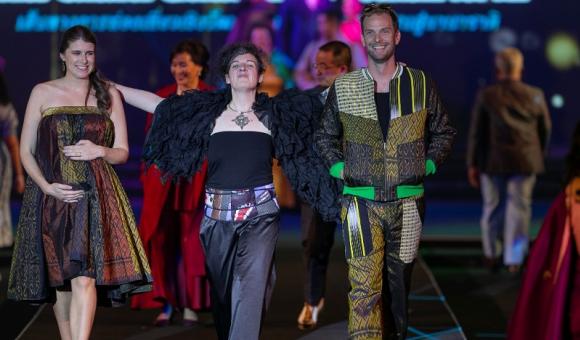 At the invitation of the Thai authorities responsible for tourism, the Brussels designer Julie Menuge took part in the Bangkok Thai Silk Fashion Week. She designed 6 items in local silk for it, presented during a fashion parade, and 2 ball gowns.
The 2nd edition of International Thai Silk Fashion Week was held at the end of 2019, at the same time as the 9th Thai Silk Celebration (and at the same time as an exhibition of designer dresses called "Thai Silk Road to the world") in Bangkok.
Organised by the Thai Foundation for tourism promotion and supported by the Queen Sikirit Institute of Art (the "ikat" handmade silk fabrics come from there) this event gathered together more than 50 designers representing close to 70 different countries.
Julie Menuge had the honour of creating exclusive silhouettes with the magnificent Thai silk which she had been given and presenting a collection of 6 looks on the catwalk. She also had the opportunity of dressing the Belgian Embassy's representative Idesbald and his wife Lorraine for the grand Gala Show Extravaganza which closed this one-week event.
She said: "This was a very positive experience and rich with meetings with all the other talented designers. All from different countries. It was a dream opportunity to learn by discussions with other designers about how we work and the realities of the profession, and build up professional contacts and friendships. It was also the chance to be able to discover and work on an exceptional material which stems from a complex and age-old know-how. Thai silks are prestigious, of high quality, handwoven and their patterns are produced by the ikat technique (threads resist-dyed in bundles before being woven). We had permission to add other fabrics in our creations up to a maximum of 20 to 30%. So I decided to match up these Thai silks with Bazin tie and dye in Mali cotton and woven loincloth in Faso danfani cotton from Burkina (acquired during previous trips). By associating different hand-crafted weaves and dyes, I wanted to continue to build bridges between the cultures in my creation. I returned home with my suitcases full of wonderful fabrics, a head full of new inspirations for future designs, great stories to tell and a burning desire to go back there!"
Project supported by WBI and Wallonie-Bruxelles Design Mode.
Linked events