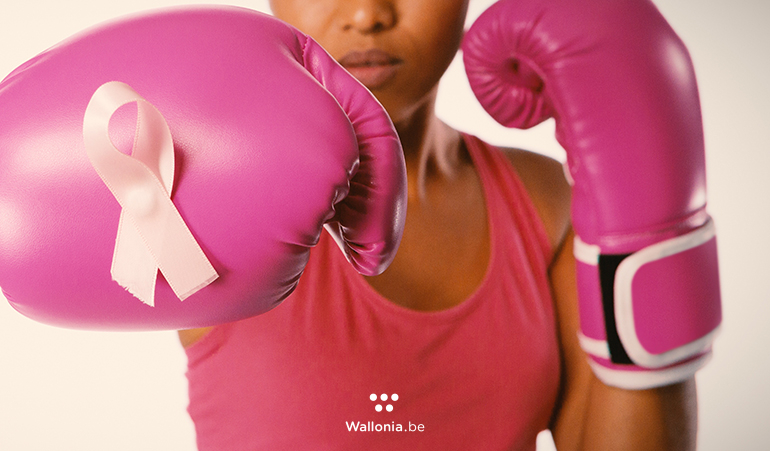 This Saturday, February 4, we celebrate World Cancer Day. An important date in Belgium as the country has made the fight against cancer a national strategy which is bearing fruit. An idea ? According to the Cancer Foundation, 185,000 additional lives have been saved over the past 30 years. A success which, if it can and must still improve, testifies to the strategic place of the country and its regions in the research, development, production and internationalization of its innovative treatments. A brief overview of the most innovative technologies and companies.
A world day against cancer, but for what?
Did you know that World Cancer Day, an initiative of the International Union Against Cancer (UICC), the largest international organization dedicated to cancer, was born on February 4, 2000 at the International Summit Against Cancer on the occasion of the new millennium in Paris? The Charter of Paris aimed to promote research, prevent cancer, improve the services provided to patients, raise awareness and mobilize the international community to make progress against cancer.
Twenty-three years later, the fight against cancer has made good progress within the European Union, with different results depending on the country and region. In the field of the fight against cancer, Belgium and Wallonia are at the forefront.
Wallonia, a strategic region in the search for innovative treatments
Cancer treatments have evolved profoundly over the past 40 years. Advances in the battle against this disease are mainly due to improved diagnostics and the development of truly innovative treatments. Currently, around forty Walloon companies are involved in cancer research.
Thus Wallonia has leading players in nuclear medicine and medical imaging. For example, the Institute of Radioelements (IRE) is a world leader in the production of radioisotopes used daily in the medical imaging departments of hospitals around the world. Thanks to the possibilities of early diagnosis that certain Walloon companies and hospital services offer to patients, we can considerably increase the chances of properly treating cancers because they are detected very early.
Around twenty Walloon companies are also working to develop new innovative therapeutic approaches.
One of these treatments is immunotherapy. It is a revolutionary approach in the treatment of cancer which consists in educating the immune system so that it recognizes and eliminates the tumor. The iTeos company based in Gosselies is developing this approach. Based on the pioneering work of the Ludwig Institute (LICR) and the de Duve Institute (UCLouvain), iTeos is designing the next wave of immunotherapy products, currently in clinical development.
Advances in precision medicine are also impressive. Personalized medicine puts an end to the philosophy of "one size fits all" because it is developed according to the patient. Thanks to this "personalization", the treatment of a certain number of cancers has evolved in a remarkably positive way. Treatments based on this approach are much more effective than traditional therapies, while causing fewer side effects.
In terms of precision medicine, various strategies are currently being studied in our Region. Researchers and industrialists focus on the research and industrial production of advanced therapy medicinal products or ATMPs. These products are a real revolution. Unlike conventional drugs, ATMPs start from genetic, cellular and tissue material. The particularity of ATMPs is that they not only increase the chances of recovery but are also much less toxic. More comfort and better quality of life for the patient, in other words. In this register, we can mention leading players such as Novadip, which develops exosomes, small extracellular vesicles loaded with molecules with a therapeutic effect which are injected directly into the tumor. Catalent and Eurogentec in particular are active in the industrial production of advanced therapy products.
The OncoDNA company active in Wallonia is also developing an interesting approach in precision medicine for the treatment of cancer. This company offers practitioners solutions to help identify the molecular weaknesses of certain types of tumours. This can help predict resistance to cancer treatments, identify the most effective cancer treatment options, and help monitor patient response during treatment.
We cannot mention the treatment of cancer without mentioning the company IBA, a spin-off from UCL, which offers various solutions to practitioners in charge of tumor treatment, including proton therapy. Proton therapy is considered the most advanced radiation treatment for many forms of cancer. It is particularly appropriate when the treatment options are limited or present unacceptable risks and side effects in the short or long term for the patient, in particular in paediatrics.
Many diagnostic solutions or treatments have been developed in recent years in research and innovation projects launched by the Walloon BioWin cluster. These projects all have one thing in common: that of the collaborative approach involving industrialists, universities and hospitals in the Region. In this regard, BioWin plays a leading role in discussions aimed at consolidating the ATMP value chain at Belgian level (ATMP Hub project).
The outlook for patients suffering from cancer is very encouraging with the arrival of very young high-potential companies offering truly disruptive approaches, including, among others, Theratrame, ATB Therapeutics or Abscint.
"In Wallonia, innovation in the fight against cancer is at the top of the world, thanks to the presence of leading companies in the fields of nuclear medicine, medical imaging, immunotherapy, precision medicine and proton therapy, and also thanks to the contributions of exceptional academics and clinicians. For patients, there are many reasons for hope…" - Sylvie Ponchaut - Managing Director, BioWin
A favorable context for investments
The density and quality of life sciences players in Wallonia has enabled this region at the crossroads of Europe to develop an ecosystem that stimulates innovation and excellence and allows players of international stature to consolidate their research activities, development and industrial production. Among these players, the region is home to a dozen international biopharma companies (GSK, UCB, Kaneka, Takeda, Catalent, Termofisher, Lonza, Cenexi, Zoetis...), 5 world-renowned universities (UC Louvain, University of Liège, etc.) and around forty SMEs specializing in different sectors of the fight against cancer (see above).
These players develop synergies with universities and research centers and benefit from the support of public authorities, in particular through research and development subsidies. This concentrated environment places Wallonia in 1st place in Europe for R&D investments and in 2nd place worldwide for clinical trials.
About Biowin
Biowin, health hub of Wallonia in Belgium, supports research and innovation in many therapeutic areas, including cancer, by bringing together healthcare organizations, academic institutions and companies. This collaboration promotes the pooling of resources and expertise to accelerate the development of new treatments, as well as improved results for patients.
Biowin primarily supports research through its funding initiatives for innovative projects. These types of funding generally cover 4 years of multi-partner research, which allows Biowin members to focus on their core business, without worrying about financial constraints that can slow down the development of new treatments and therapies.
Biowin also facilitates contact between its members by offering them various networking opportunities. Thanks to these opportunities, members can establish links with each other, exchange their expertise and experiences, and collaborate on joint research projects.
[ Discover the key players working for the fight against cancer in Wallonia ]
Article written with the collaboration of BioWin
Linked events