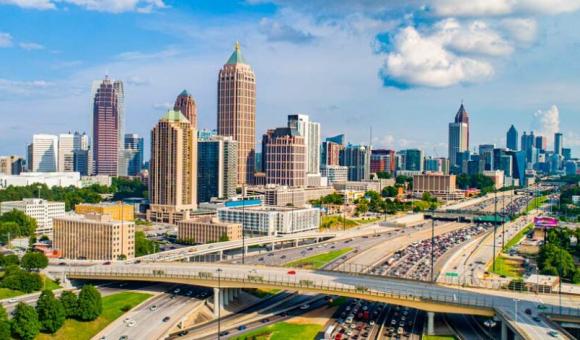 B.I.G. is not just 'big'. It's the three-letter acronym for Biotechnology, Innovation and Gastronomy. The three flagship sectors that Wallonia intends to highlight on the first royal mission led by Her Royal Highness Princess Astrid to the United States from 4 to 12 June. 139 Walloon participants will be on the trip, including 71 companies: heading to Atlanta then New York and finally Boston.
The USA is the leading market for Belgian and Walloon exports outside Europe and Belgian investment in the United States is constantly increasing, above all in Georgia. In the other direction, the United States has been among the top three foreign investors in Wallonia for a long time and again in 2021, American investments in our country reached 245 million euros and enabled the creation of 176 direct jobs. Therefore, it is an essential partner whose ties go well beyond economic and commercial relations. The East Side of the United States where the Belgian delegation will visit is especially close to Europe both from a cultural and historical point of view.
This mission, organised by the Belgian Foreign Trade Agency, the regional foreign trade agencies (the Wallonia Export & Investment Agency, Hub Brussels, Flanders Investment & Trade) and the FPS Foreign Affairs, will feature innovation in the broad sense of the term.
Biotechnology
The biopharma industry is the leading strategic sector in the Walloon economy. It's a heavyweight whose turnover is no less than 10.5 billion euros. Nearly 30 Walloon biotech companies will take part in the visit. It's important to recall too that the World Health Organisation chose Liège airport alongside the seven other airports spread across the world. For the European continent, Liège is therefore the logistics platform for the supply of medical equipment necessary for healthcare staff.
On the programme over there in terms of biotech companies are several 'made by Wallonia' visits: to the new offices in Smyrna (Atlanta) of UCB, which specialises in the fields of neurology and immunology, to N-Side which invests in artificial intelligence and applied mathematics in terms of energy and health, Takeda whose Belgian subsidiary in Lessines specialises in plasma-derived therapies and finally Massachusetts General Hospital (MGH) where IBA has set up its first proton therapy centre.
Innovation
Wallonia has a rich environment in terms of research and innovation which is based on especially close ties between the world of industry and universities and further educational colleges, which will also be present on the mission. This creativity is expressed in the multimedia, cybersecurity, artificial intelligence and medtech, when technological progress serves the medical world to invent tomorrow's medicine.
One example: CE+T, based near Liège, has around ten subsidiaries including CE+T America and offers innovative current converters to store all forms of electrical by saving as much as possible. This challenge is so topical in light of the energy transition that is preoccupying the whole world.
The Wallonia-Brussels International (WBI) Research & Innovation Platform will also provide significant support that divides into three themes:
Firstly, at the heart of the Brooklyn Navy Yard industrial park, a discussion panel will bring together the managers of creative ecosystems. The aim will be to discuss recipes for the management and value creation of these ecosystems. This panel will take place in a unique context because the actual site of the Brooklyn Navy Yard saw the presence of pioneers from Wallonia nearly 400 years ago.
Secondly, by highlighting the importance of the Wallonia-Brussels Federation alumni network who work and teach at MIT (Massachusetts Institute of Technology). In concrete terms, an interactive seminar will be organised with four MIT professors and researchers and will be followed by a ceremony honouring the Charleroi inhabitant Georges Lemaître. He was a Professor at UCLeuven who obtained his doctorate from MIT and is recognised as one of the founding fathers of Big Bang theory.
Finally a specific session will also be dedicated to the crucial role that the Harvard-MIT Belgian Society (HMBS) plays in welcoming Belgian scientists, networking and putting them in contact with the innovative Boston and Cambridge ecosystem.
Gastronomy
Beyond fries and chocolate, Belgium and Wallonia have many other treasures in store and here, research and innovation are also involved. Val-Dieu Abbey (Pays de Herve) will make the journey to appeal to this market of 325 consumers. 
Just the New York/New Jersey/Connecticut/Pennsylvania region alone has some 45 million consumers. The region has one of the highest population densities in the country, which enables practical transport and delivery in cities at quite a reasonable cost. The ports of Baltimore and New York are great assets for transatlantic freight. 
The Belgian American Food and Drink Day, which will take place on 8 June in New York will be an opportunity for many Belgian producers to introduce their fare to American consumers who have quite sophisticated tastes in terms of specialist and healthy food and drink, and Wallonia really has something to offer them!
Walloon agri-food companies will also be present at the Summer Fancy Food Show which is taking place in NYC from 12 to 14 June, the largest American trade fair dedicated exclusively to speciality food and drink.
Linked events