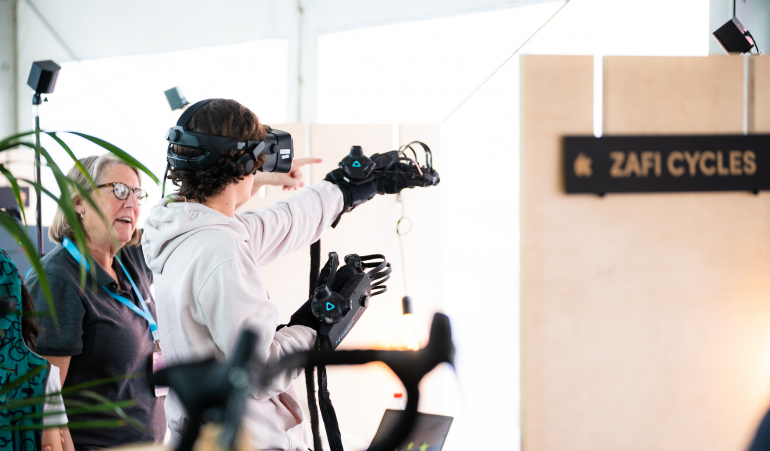 Kikk is in full swing in Namur. This international festival for the creative and digital industries, which is already celebrating its 11th edition, transforms the capital of the Walloon region into a global centre of innovation for four days. The general public (25,000 people are expected this weekend) and professionals (2,500 entrepreneurs from 41 different countries) come here to be inspired and to discover the latest innovations in technology. We have unearthed gems that are 100% made in Wallonia for you.
The visit begins with the Creative Village, where Wallonia, France and Quebec each have their own pavilion showcasing several dozen companies. The entrepreneurs are here to show off their products in this renowned international showcase, to find potential buyers and, most importantly, to get inspired by the effervescent and competitive atmosphere that is so uniquely Kikk.
At the Walloon pavilion, the creative hubs are made up of around fifteen companies. These include a very recently founded start-up, Get Your Way, which was developed at Venture Lab (a business incubator dedicated specifically to students and recent graduates) in the Grand Poste in Liège.  Their product? Smart glasses designed for SMEs. Meet Nicolas Dessambre, the co-founder and electronic technical manager of Get Your Way, and Pierre Jenchenne, the other co-founder and the design and production manager.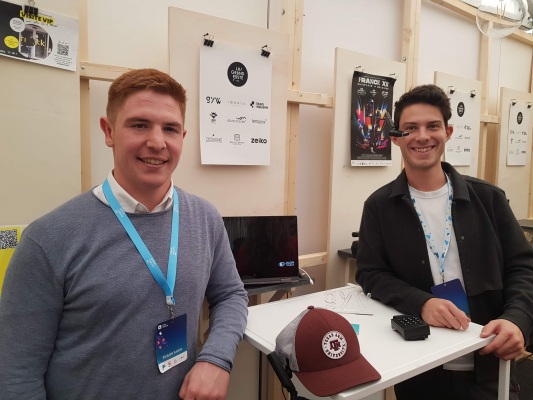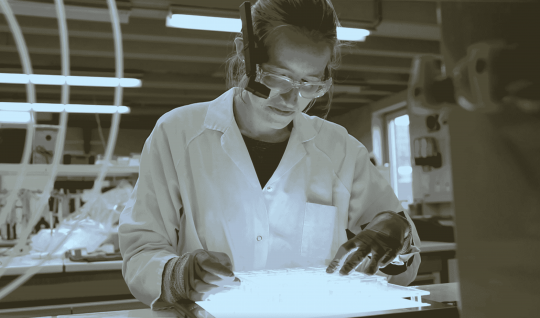 "Our idea is to democratise assisted reality. Information is displayed directly in your field of vision thanks to our glasses. This frees up the hands of lab technicians, for example, who can continue to work away without having to browse through a manual.' The product looks like a headband with a small screen on the side, which displays information (images, text) directly in the wearer's field of vision like an Excel file. An armband with a keyboard allows them to enter new information in real time. "
"We transitioned from paper to smartphones to smart watches and this is the next step: assisted reality that allows greater comfort, but also increased efficiency and a significant time reduction for companies.' The pair is currently working with B-Post to train postal workers. The training time is drastically reduced because the worker-in-training receives assistance from these glasses and very quickly becomes independent in carrying out their duties. This solution is particularly useful for inventory purposes and can really be beneficial across all industries. Their clients? 'We are looking for integrators that develop assisted reality solutions for companies. We provide the hardware, but also software, since our tool can be used as is in its simplest form, that is, for reading files."
Another invention that is 100% made in Wallonia: the smart frame by IONNYK, which received support from the Liège-based start-up accelerator LeanSquare. This smart photographic art frame is completely unique. 'Seventeen million tiny ink capsules recreate the photo on the screen. Our solution is based around the creation of a magnetic field that guides these ink capsules remotely and over time, thanks to an electric outline that attracts and repels them,' explains Olivier Fisset of IONNYK. The result is mind-blowing! A veritable art gallery in your home. It is impossible to distinguish the screen from a frame. It is also self-managing, requires no wiring and its battery, which recharges in four hours, last for one year.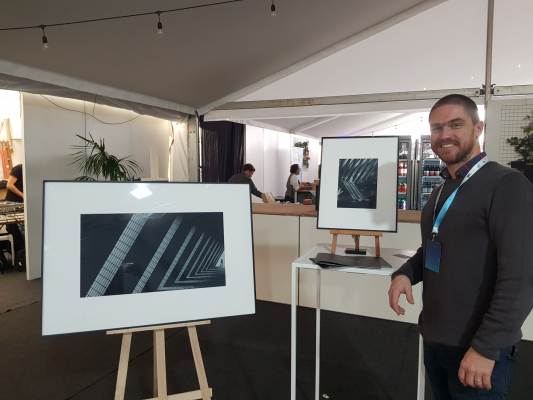 What's behind this beautiful invention? Sixteen people from a very wide range of backgrounds: from creatives who selected the collections of photographers from all over the world (today, the catalogue boasts more than 1,000 pieces) to technicians who worked to process data or develop the application, as well as sales staff. IONNYK is off to a strong start and has won many contracts, including some at KIKK last year. 'We target representatives and managers from companies that have a penchant for the arts and who believe that décor matters. This ranges from museums to hotels and restaurants, as well as law firms and doctors' offices.'
Beside the Walloon pavilion, the Kikk Market offers a spectacular selection of unique and innovative projects from Belgian and international entrepreneurs who are each more talented than the last. A collection of innovative products to test and examine before anybody else. These include another brilliant range of Walloon innovations.
Glitch This recently founded Charleroi-based collective produces multimedia projects, including video clips, video mapping, stage design and immersive visuals, among other things. This duo is passionate about digital art and collaborates on a number of national and international shows.
MONASTUDIO This Namur-based digital design and development start-up aims to support companies with their digital transition and to reframe the internet as more than just a showcase, but as an extension instead, by offering a brand-new online experience through innovative and accessible interfaces, while integrating emerging technologies such as 3D and augmented reality.
Druw audio is the Verviers-based start-up behind BEATSURFING, the only music-production program in the world that places human performance at the heart of the production process. The Playground app was released in 2015. It was downloaded 1.2 million times and won the Best of App Store award. While Playground made it possible to (re)play pre-made tracks, BEATSURFING offers a tool that can be used to create and edit musical content.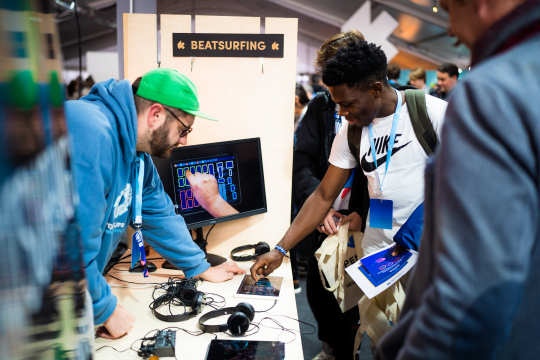 The parallel dictionary project from Belgian French-speaking sign language (LSFB) to French aims to offer an online platform that allows deaf people, or people who want to learn LSFB, to look up the meaning of a sign using a webcam. This unique platform is the result of work by translators from the LSFB lab at UNamur and research into artificial intelligence conducted by the IT Department at UNamur.
Benuts is a centre that creates visual effects for cinema, television, stage design and advertising. It specialises in art, matte painting, special effects, motion design, designing credits, photorealistic 3D, Houdini FX, on-set supervision, concepts and art direction.
Odoo is an IT company based in Louvain-la-Neuve, which offers a flexible and comprehensive management solution: CRM, e-commerce, accounting, stock-taking, point of sale, project management, websites, production, purchasing and more. Create your website like a professional designer with the Odoo website builder.
The Liège Hackerspace is a space where people with a shared interest in IT, technology, science and the arts can come together and collaborate, with a view to making, sharing, learning and/or teaching, depending on their skills and knowledge.
The Namur Incubhacker is also a space where people can come together to create interdisciplinary work, based on the pooling of electronic, IT and digital knowledge, among other things.
La Niche is a digital agency in Namur that specialises in designing solutions to boost your growth in a collaborative manner. La Niche offers a strategic and operational partnership to ambitious digital start-ups, including project management, digital strategies, interface design, user experience, app development, app maintenance, SEO, online marketing, data intelligence and data reporting.
Zafi Cycles is a start-up based in Louvain-la-Neuve. It builds bike frames from 100% Belgian wood (from the Sonian Forest, among others). A combination of technology and craftsmanship to produce an innovative product with a timeless look. Each bike is custom designed and manufactured in Wallonia.
Fabricar3v This INTERREG FWVL (France-Wallonia-Flanders) project develops a 'low-cost' process for 3D printing metals. The goal? To allow as many organisations as possible to print metal parts for prototyping and producing small and medium-sized batches. The full process now costs less than €10,000. This is twenty times cheaper than what is available on the market today, making this process an affordable choice for very small businesses, SMEs and FabLabs.
IT4Anxiety aims to support the implementation of innovative solutions with the goal of reducing anxiety for patients suffering from mental health issues. This European partnership includes start-ups, companies in the IT sector, mental health institutions, research centres, associations for people who use mental health services and their families, psychiatric hospitals, universities and public authorities.
Linked events