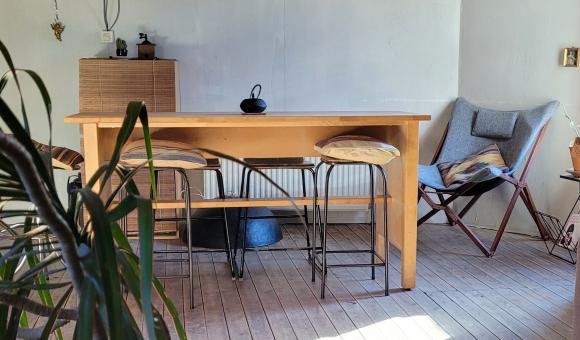 Family stay in Bruges - in Dutch
Learning Dutch means the pleasure of overcoming the language barrier and sharing a common way of life: friendliness, town planning, architecture, gastronomy, painting, music, folklore and more.
Enjoy a fun family holiday in Bruges ... in Dutch.
While the parents relax as they see fit, we invite the children to go back in
time and discover medieval Bruges.
Fun walks will take us to places that must surely be the birthplace of strange legends. If the weather is warm, we will take a dip in the canals or swim in the sea. Children will love the magic forest...
The programme will also include a gastronomic day.
We will accompany your little darlings in Dutch so they receive excellent
language immersion while having fun.
You will stay in a comfortable, spacious loft:
on the first floor: a large living room with a fully equipped kitchen and double sofa bed, bathroom with shower, large sink, separate toilet
The second floor has a large dormitory for children (4 beds).
The master bedroom is on the same floor.
Trampoline and flower garden on the ground floor.
We are located along the Bruges ring road. It is surrounded by parks perfect for a walk, exercise/jogging and even a barbecue.
Free parking 600 m away.
Free minibus to the city centre and Bruges train station (every 20 minutes).
Bus stop to Damme, Knokke and Sluis/Breskens (Holland) 100 m away.
Nearby: bakery, butcher, grocery store, two shopping centres above the bridge.
Price for a one-week stay (Monday morning to Saturday morning) €799
mid-week (3 nights) €479.50
weekend (2 nights) €320
bed linen (optional) €8
bath towels (optional) €4
tea towels (optional) €4
cleaning €80
(weekend) €50
Deposit: €500
Return of deposit: one week after departure
CTA
Sign up
Complete the application form and adhere to the Charter of Brand Ambassadors