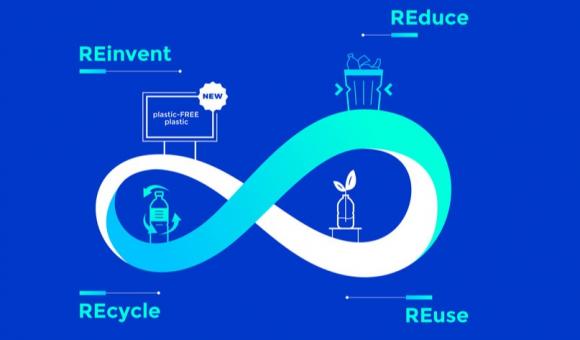 Which sustainable future for plastic?
Innovation to improve plastics recycling
In view of the need to find new models for recycling plastic, a public-private partnership (PPP) comprising Suez and the inter-municipal body IDEA was created to develop sorting activities for all types of plastic, based on the pilot experiment of collecting P+MC in the municipality of Frameries, carried out since 2016 by Fost Plus, and which decided to extend the concept of P+MC collection to the whole of Belgium between 2019 and 2020. In addition to the P+MC waste already collected in blue bags, all other small plastic household packaging (yogurt pots, butter tubs, plastic wrappers and sachets, etc.) will also be collected.
With more than 20 years' experience in the development of sustainable and multifunctional polymeric materials, the research centre Materia Nova is using its expertise to help companies wanting to develop biodegradable plastic products or seeking to reuse recycled materials in their products.
An innovative, evolving sorting centre appropriate for the extension of sorting practices
The S.A. Valodec recently launched a contract for the design, construction and commissioning of a sorting centre that includes an automated P+MC sorting installation. It is due to be located in the heart of the Ghlin-Badour zone managed by IDEA. The bids are currently being analysed and the contractor is due to be announced in the next few weeks.
International conference on the future of plastic
In view of these challenges (waste production and management models that are currently unsustainable), IDEA, Materia Nova, the Walloon Region and the non-profit Sustainable Economy Association (SEA) are organising a conference that will bring together stakeholders from the plastics value chain (production, consumption, recycling, innovation, regulation and environmental stress) to find long-term solutions.
It makes sense to hold an event like this in Cœur du Hainaut, as the "new materials" sector was recently highlighted as strategic for the Cœur du Hainaut area, thanks mainly to the concentration and excellence of knowledge in the field and the planned short-term investments (hall, platform for the analysis and characterisation of materials, etc.). The Cœur du Hainaut seems ideal for hosting an event about plastic.
21 March will be divided into several phases:
- Presentations by eight academic and industrial experts from around the world (United States, Sweden, Germany, Spain, etc.);
- Organisation of four workshops on (1) reducing the amount of plastic used, (2) constructing a circular recycling model, (3) boosting the demand for recycled plastic and (4) reinventing plastic from biodegradable, biosourced plastic;
- Conclusion by well-known speakers.
Please register > here <