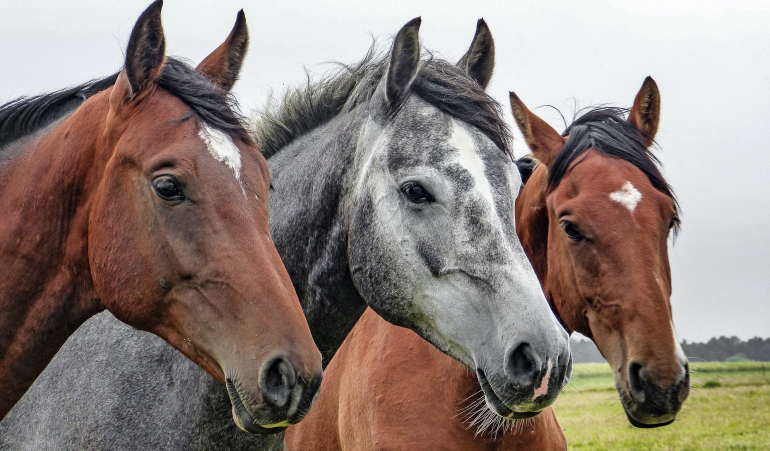 The link between Parkinson's disease and lameness in horses is not immediately obvious.
In Mons, however, the research conducted at Multitel easily demonstrates this link. "Since 2018, researchers at this Walloon IT-specialised research centre have been working on the development of a high-performance motion capture system," says Jean-Yves Parfait, Head of artificial intelligence projects.
"Initially, it was a project developed in collaboration with a Walloon company that wanted to see if it was possible to monitor Parkinson's patients at home using cameras that continuously tracked their behaviour," explains the UMons École Polytechnique graduate. "We have since adapted it to the equine sector. And, more globally, to veterinary medicine."
Monitoring of patients at home
The first study conducted by Multitel aimed to determine the extent to which a visual patient monitoring system, coupled with artificial intelligence, could be useful in detecting the evolution of their pathology. It also involved identifying the simplest technologies to use and the types of sensors for achieving this solution.
"This study showed that it was possible to monitor Parkinson's patients at home, using conventional cameras, without having to install specific sensors on the person," explains the electronics engineer and specialist in signal processing. "This way, we are able to detect motor symptoms that reveal a progression in the disease between two visits to the neurologist, such as a deterioration in the amplitude or speed of the patient's movements."
Laboratory animals and veterinary medicine
Following this first success, the Multitel team launched a complementary project, this time involving the animal world.
"Very recently, thanks to a collaboration using our own capital with the American university Texas A&M, we were able to show that our technology could perfectly capture movements in rodents used in the laboratory", the researcher continues. "It is, in fact, interesting to observe their behaviour during various phases of an experiment. This can provide a range of additional information useful to scientists."
Multitel's new project is called "Pegase". This time it involves the equine world. This explains the participation of the Head of the "Artificial Intelligence" department of the Walloon Research Centre in a wide-ranging scientific mission organised in Scandinavia a few days ago on the theme of horses, by the Research and Innovation department of Wallonia-Brussels International (WBI).
Mastering the complete information processing chain
It is certainly possible to track animals with a simple smartphone and without fitting the subjects with specific sensors. The study carried out with Texas A&M showed that. Pegase aims to ensure that problems, such as lameness, can be detected through better management of the image streams delivered by the monitoring system, via a semi-automatic image scoring algorithm.
"Traditionally, when you remotely monitor animals with a set of cameras, it requires someone to look at the images continuously to identify unusual behaviour," says Jean-Yves Parfait, whose research centre is part of the Walloon Trail Institute, which brings together AI stakeholders in Wallonia and also participated in the WBI scientific mission in Scandinavia.
"Continuously viewing these images is time-consuming and tedious. Over long periods of time, it very quickly becomes unaffordable, if not impossible," says the researcher. "Hence the use of artificial intelligence to carry out this detection."
Improving system portability
"In artificial intelligence, image annotation is a sticking point," the engineer explains. "In a system of this type, we have to be able to annotate several thousand, if not several tens of thousands of images, each time taking into account different points of the skeleton to detect a specific situation. This quickly becomes unmanageable in terms of data management. The solution is to develop a solution that requires just a few hundred images to be processed to obtain the desired result. This makes it possible to continuously monitor the behaviour of animals in stables or barns."
The concern facing the engineer today is the portability of this system. The tests and validations acquired so far have taken place in Multitel's experiment rooms. They now have to make this system mobile, so that it can be used in stables, barns, etc. They also have to improve its capacities, in particular so that it can make acquisitions in infrared images at the same time as observations in the visible domain. This is in order to carry out continuous observations, including at night. In short, by being as flexible as possible.
Jean-Yves Parfait increased his contacts with Belgian and Scandinavian scientists in Oslo and then in Uppsala. His goal is to identify other potential applications for Pegase. And also identify possible partners for this project and its marketing. Multitel does not directly market the solutions it develops. This necessarily involves partnerships.
Source: article by Christian Du Brulle for Daily Science