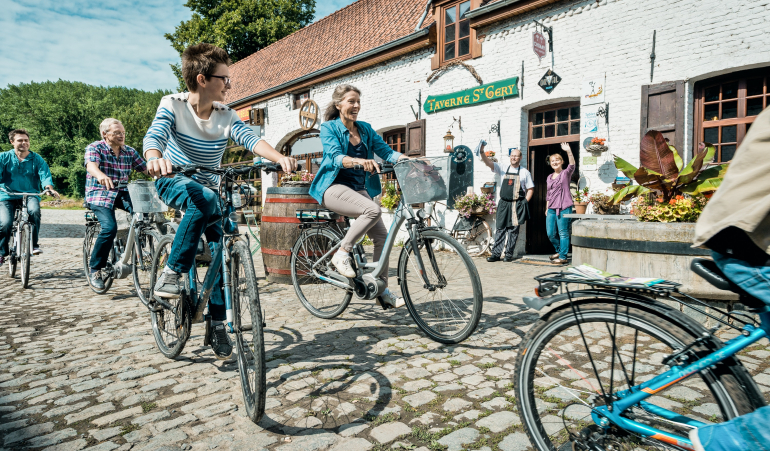 Did you know that Wallonia has more than 1,400 kilometres of wonderful cycling trails ?
Whether you are looking to spend several days on the road or just long enough to travel a few kilometres, we have a wide range of trails that will take you through countryside and forests, charming villages and towns with a rich heritage, or even around castles. Wallonia offers international and regional itineraries along former railway tracks and towpaths, the RAVel network and signposted cycle networks with nodes or themed routes. And if you fancy breaking up your trip and staying in accommodation with the "Bienvenue Vélo" label, it will be the highlight of your day in the great outdoors! You will receive the warmest of welcomes and be able to relax in magnificent conditions.
Welcome cyclists !
The "Bienvenue vélo" label has been awarded to a wide range of establishments in Wallonia, including gîtes, bed & breakfasts, hotels, campsites, youth hostels, restaurants, taverns, local bistros, tourist attractions, museums, tourist offices, tourist information centres, local producers and craftsmen, as well as various bicycle rental and repair outlets. They all have one thing in common, namely a warm welcome for cyclists.
"Bienvenue vélo" operators must meet a series of identified criteria to best meet the specific needs of cyclists. What are they? They must be located less than 5 km from a cycling network such as the RAVel, provide free, secure, covered storage for your bike, supply repair tools, cleaning equipment and a first-aid kit if required, offer information on the options for having a hearty meal, and provide useful information on cycling networks and services for cyclists, as well as a range of documents, maps and tourist routes for visiting the area. At some locations, you can also enjoy other tailor-made offerings such as balanced meals, à la carte packages, shuttle or luggage transport services, bike rentals, special equipment, etc.
For cyclists wanting the best possible conditions for discovering Wallonia, choosing a "Bienvenue vélo" establishment means selecting a place where they will receive a warm welcome. The hosts will be delighted to see you arrive by bike, and there will be a range of services to meet your needs. 
RAVel, nodes...
Perhaps you will arrive at your stopover after happily cycling along one of the RAVel trails. This independent network of slow lanes, made up of greenways built mainly along towpaths and former railway lines, guarantees easy, gentle routes and safe conditions. A total of 45 itineraries are available for family outings by bike (or on foot or horseback). They are ideal for discovering Wallonia, its large rural areas and unspoilt natural sites. RAVel maps, produced for each Walloon province, are available free of charge from tourist offices and the RAVel website. An interactive map is also available.
Another way of discovering Wallonia by bike is via the "points-nœuds" (nodes). These nodes allow you to put together beautiful bike tours by planning your own customised itinerary according to your abilities and freedom. How does it work? Locate your future circular or direct route. You can tailor your rides so you discover Wallonia at your own pace thanks to a simple system of directional signs. Each node network corresponds to a province (Namur, Hainaut, Walloon Brabant, Liège, Luxembourg). Connections with neighbouring regions are always possible. Paper maps are available from local tourist information points throughout Wallonia. 
If you are a fan of long-distance cycle routes, the Vennbahn, one of the longest cycle routes, along a former railway line, is just what you are looking for. The Transardennaise runs through the Belgian Ardennes, linking La Roche-en-Ardenne to Bouillon. A guaranteed breath of fresh air! There is also the EuroVélo, which crosses Belgium and continues on to other European countries. 
Cultural or sporting outings ?
If you want to combine cycling with cultural discoveries, the UNESCO route is for you. Cycle through Wallonia from west to east, from Tournai, just a stone's throw from France, to the remarkable site of Blegny-Mine, at the border with the Netherlands. Soak up the diverse scenery, from the plains of Hainaut to the varied banks of the Meuse, from the attractive hills of Condroz to the deep valleys of the Ardennes. Take the time to admire the exceptional sites on UNESCO's World Heritage List, special witnesses to the influences of the past. Suggested itineraries: Tournai-Mons, Binche-Thuin, Charleroi-Dinant, Ciney-Durbuy, Durbuy-Spa, Spa-Waimes, Waimes-Raeren, Raeren-Blegny. From one end of Wallonia to the other.
Wallonia is like paradise if you are more of a sports cyclist ! The region is perfect for intense cycling. Enduro, gravel, cross-country, free-style or road biking - whatever your preferred discipline, Wallonia has something to satisfy both amateurs and experienced high-level cyclists. Discover the region by exercising your muscles !
Nature excursions are an excellent way to enjoy discovering the region. But to keep it fun for everyone, please respect nature during these explorations. Environmentally friendly behaviour on marked trails means taking your own rubbish away with you. Simple gestures by everyone will help maintain the beauty of the forest and the other places you visit. Whether you are looking for a day out or a longer stay, respecting nature and its inhabitants will guarantee a pleasant and authentic experience. 
A cycling trip in Wallonia is the perfect opportunity to discover its landscapes, remarkable viewing points and thousands of hectares of nature reserves and to climb its slag heaps. It is a chance to recharge your batteries on magnificent, accessible and signposted cycle routes and sample local produce. And the "Bienvenue vélo" label guarantees you a magnificent welcome!
By Jacqueline Remits