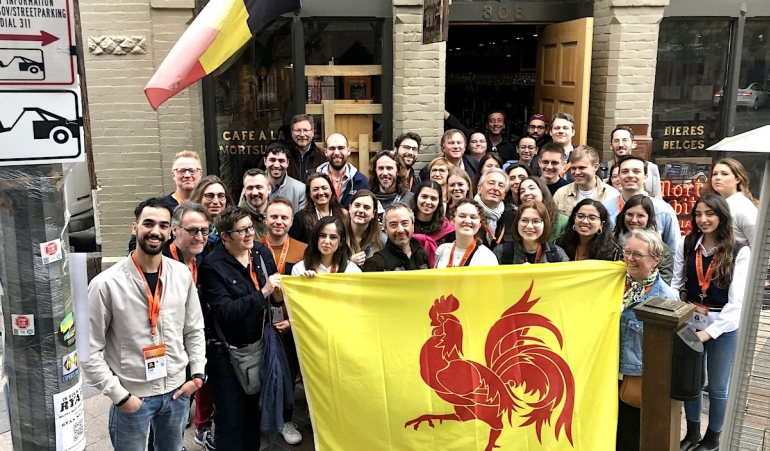 Over the past few days in Austin, the capital of Texas, a group of fifteen Master's degree students from HEC Liège (the University of Liège's School of Management) have been strolling down the aisles and through the conference rooms of the South by South West (SxSW) festival.
Show, concert and film addicts? Without a doubt. "But they are actually taking part in a workshop that we are organising as part of the Explort programmes of AWEX, the Walloon Export and Foreign Investment Agency," explains Anne-Christine Cadiat, Professor of Marketing at HEC (ULiège).
For these students, the experience is a chance to immerse themselves in international trade. "Our students are at this major cultural and creative industries event, SxSW, learn and to develop their professional skills, says Prof. Cadiat. 
At the service of eight Walloon partners
"The first step was to identify and contact any Walloon company related to the cultural or creative industries (CCI), in the broadest sense of the term, interested in the American market. We have companies working in transport, logistics, technology, design, fashion and even spirits. For this particular mission, eight Walloon partners are counting on our students: Safran Aeroboosters, Easycargo, NRB, Learnence, Wallonie-Bruxelles Mode Design, Liegin, Belgian Owl and the HEC AI and virtual reality applied to business lab."
"The idea is to explore the market and identify potential opportunities for each of these partners, to find out more about the regulations, to learn how to approach the market, identify the competition... But they all have more specific goals too. Safran, for example, is already very familiar with the US market. However, the company is looking for a supplier for a specific part. So here the students have been tasked with a monitoring exercise in the area of interest for this company."
Students work in groups of two or three on two different companies. Sarah and Justine, for example, work for the virtual and augmented reality lab at HEC. "We go to conferences on the metaverse. We also meet companies active in the field. Our report will be very complete," they say.
A win-win situation
"This educational approach focused on 'problem-based learning' anchors students in the real world," says Anne-Christine Cadiat. "The partner companies expect them to report. But they are not the only beneficiaries of this mission. Everyone gets some added value. The mission is also of interest to Awex, which will benefit from our feedback, to the students themselves, and also to HEC Liège, which can thereby build up a quality teaching environment by providing its students with real cases in the field."
"We also notice that students who engage in this kind of experience progress faster than others. Some of them, in the second year of their Master's degree, already have professional experience," says the marketing professor.
International speed dating
Another benefit of such a stay is the development of the students' personal networks. These networks of relationships are likely to be very useful for them throughout their careers.
"We had a good example during the speed dating evening organised by Awex for Walloon companies that were also taking part in SxSW on the previous technological mission," says Prof. Cadiat. "Alongside Walloon companies and their potential Quebec and American partners, they were able to find out about each other's expectations and needs. This kind of experience increases the possibility of meetings and contacts tenfold."
On the subject of speed dating, we should point out that this year, the Walloon delegation taken to SxSW by Awex and the Research and Innovation Department of Wallonie-Bruxelles International (several different universities and higher education establishments were present) replaced the traditional Walloon stand in the exhibition halls of SxSW to its advantage. The attractiveness of the 'exhibition' section seems to have declined significantly this year, according to the companies and Walloon representatives on site.
Learning how to network
There is still one fundamental question remaining: why has a marketing professor at HEC Liège been organising this kind of mission for her students since 2017? "The answer is clear," says Anne-Christine Cadiat. "When I was a student myself, I was able to enjoy a similar experience organised at the time by the Belgian Foreign Trade Office. It was a milestone in my training. Hence my desire to share it with my own students."
"From an educational point of view, it is extremely interesting. It is also time consuming and difficult to organise. But the results are well worth it! It teaches students to break free from routines. It shows them other ways of learning. They learn to network with each other, which is not easy at school, as there are still several hundred students in the master's programme. They also network with Walloon companies, international contacts and structures like Awex."
Of course, this experience comes at a cost. Here, all the partners have to pay their share. "AWEX provides a grant for each student, companies also contribute financially, as does HEC, and the students themselves. They invest 400 euros in this experience," says Anne-Christine Cadiat. "But this shouldn't be a barrier to their participation. We are always here listen to them to make things easier, if necessary," she concludes.
Source: Daily Science.