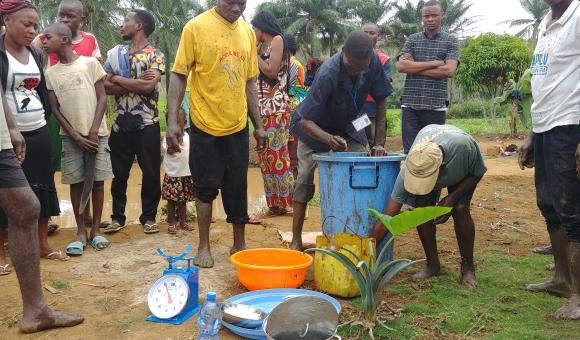 'National Fishing Day' has been celebrated in the Democratic Republic of Congo every year on the 24th of June since 1967.
This day raises the profile of industry stakeholders, spreads awareness of the protection of fish resources and promotes local produce. This is because the fishing industry in the country relies very heavily on imports of frozen horse mackerel, which is eaten by the entire population due to a lack of alternative local fresh fish.
 
In Kongo Central province, this event was relaunched in 2017 by the APEFE 'Programme to support village fish farming', which organises this day jointly with the Provincial ministry for agriculture, fishing and cattle raising. The aim is to promote fish farming organisations in the province via visits to farms, exchanges with other producers and motivational speeches describing how things have changed. Naturally, at the end of this event there is a tasting of local produce.
 
This occasion is also an opportunity for fish farmers to talk to the various government departments (agriculture, fishing and cattle raising and rural development), that have come from different geographical levels (sector, region and province), about their problems and the solutions to put in place to ensure that fish farming gains momentum to compete with imports of frozen fish, a product that the Congolese do not really like.
 
The programme to support village fish farming is implemented by APEFE with funding from the Belgian Development Cooperation.
Linked events