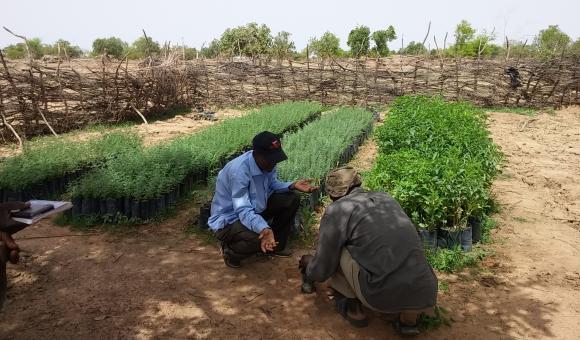 Last March, the National Coordination of the Great Green Wall at Burkina Faso and the NGO Tiipaalga signed an operational protocol agreement, for the production and planting of forest plants in the 2019 reforestation campaign, in their efforts to defend the province of Soum at Burkina Faso.
The objective for local tree growers to produce 120,000 plants was beaten during the period between 15 April and 30 June 2019. This operation is part of the cooperation agreement between the APEFE and ADEPS for carbon compensation of ADEPS' green points.
The production and planting of trees during the current reforestation campaign follows intervention in 2018 which was as good as complete. This is why the same objectives were renewed in the year 2019. The mission to produce 120,000 plants led to a final total of 127,570 trees being produced by the 17 tree growers across 16 villages, belonging to 7 communities in the province of Soum at Burkina Faso: Baraboulé, Tongomayel, Béléhédé, Kelbo, Nassoumbou, Djibo, Pobé Mengao.
The NGO Tiipaalga launched its efforts by organising a meeting between the tree growers, in order to explain and harmonise the contractual information that was to commit them during the reforestation campaign. In this way, they were informed of the number of plants to produce by species and by tree nursery, the price of repurchasing the plants fixed at 90 FCFA each, and the contract was signed, procedures were established and the deadline set at the end of June for the final tree count.
The species identified for production are the acacia senegal, the adansonia digita (Baobab), the acacia tortilis, the bauhinia rufescens, and the acacia macrostachya. On 5 July 2019, production reached as many as 127,570 forest plants, an achievement rate of 106.3%, with achievement rates per species varying between 98.6 and 108.9%. The tree planting was completed in August.
What is more, 20 tree growers have also been able to improve their grafting techniques of the ziziphus mauritiana, at their own request. The promotion of this species allows a source of local revenue to be created, particularly for women, and contributes to improving the quality of nutrition in homes in the region.
The National Coordination of the Great Green Wall at Burkina Faso is a programme implemented by the National Coordination of the Great Green Wall by the IGMVSS.
Linked events