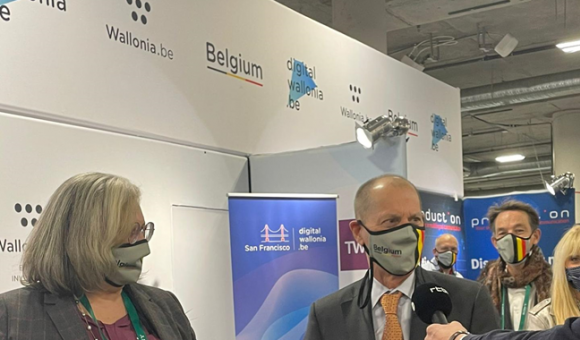 Wallonia was out in force at CES 2022, which was held in Las Vegas from 5 to 7 January. Fifteen Walloon start-ups and SMEs presented their innovations at the world's biggest Tech event, and their stand was actually opened by Gary Shapiro. The big boss and founder of the show was particularly captivated by Levita's levitating display case. This is a great gesture of confidence in our region, which has already re-signed for next year, as it received such positive feedback and signed several contracts !  
After symbolically cutting the ribbon of the Walloon Export-Investment Agency (AWEX) stand, Gary Shapiro then took the time to discover the solutions developed in Wallonia and showed great interest on several occasions, especially when viewing Levita, the promotional display case proposed by two magicians from Liège, Clément Kerstenne and Philippe Bougard, which could be located at the entrance of the exhibition in 2023. The BBC also dedicated a wonderful report to them, and on Friday they won the competition between French-speaking start-ups in the 'tech for business' field at the Francophone Village.
The inauguration by the show's boss was the result of work by the Francophone Village, in which AWEX was involved; this was an event on the sidelines of ten international technology shows during the year, whose ambition is to connect the various territories of digital Francophonie. But it was undoubtedly also the result of the trust built up between Wallonia (Belgium's only representative this year) and the CES since 2018.  According to Chantal De Bleu, the Wallonia Export-Investment Agency's General Manager, who was present in Nevada, the CES organisers appreciated the fact that the Walloon delegation went ahead with its trip despite the circumstances. Many large international companies cancelled their attendance due to the health restrictions. "We were there, and we sent an important message," adds Chantal De Bleu. It is during the tough times that you need to be involved and we are here to help businesses."
Although the cancellations obviously resulted in a decrease in the number of contacts, they did make up for it in terms of quality, as the companies present were much in demand for face-to-face contacts.  
As "The Place to be" for future technologies, CES is an excellent springboard for prospecting in the United States. It is also a great way to highlight the Walloon digital ecosystem, and this success shows that the Digital Wallonia strategy is bearing fruit.
Here is the list of the Walloon companies that participated in CES 2022: