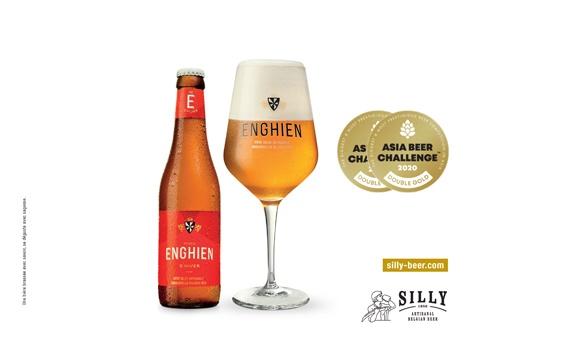 The Brasserie de Silly, a family brewery based in Hainaut, has done Belgian beer proud in Asia, the world's largest beer market.  It won 7 awards in the Asia Beer Challenge 2020. Three double gold medals for the beers Enghien d'Hiver, Silly Scotch, Silly Saison. Three gold medals for the Triple Swaf, Pink Killer and Silly Kriek. And a silver medal for the Silly Blanche. A total of 7 award-winning beers from their range of 17 craft beers.
Fifty percent of all the world's beers are consumed in Asia and this is the fastest growing global market. The largest countries, by order of sales are: China (including Hong Kong, Macao and Taiwan), India, Indonesia, Japan, the Philippines, Vietnam, Thailand, Myanmar and South Korea.
The Asia Beer Challenge (ABC) is managed by the world's largest beer and spirits awards organisation, which includes the China Wine & Spirits Awards (CWSA), the Women's Wine & Spirits Awards (WWSA) and the European Beer Challenge. The Asia Beer Challenge is judged by the 100 top Asian beer buyers - the decision makers. The judges carefully evaluate the candidate beers using blind tasting.
The evaluation process takes into consideration all elements of each beer, including the appearance, flavour profile, aromas and the structure. The jury's impartial and professional approach ensures that each beer is tasted objectively and has the opportunity to compete with the world's leading beer brands.
Great international acclaim for this family brewery based in Silly, near Enghien. Cousins Lionel and Bertrand Van der Haegen put quality first, using the shortest supply chain for their raw materials, and ensure quality at all levels, particularly in the brewing process a traditional expertise which has been passed down through 6 generations since 1850.