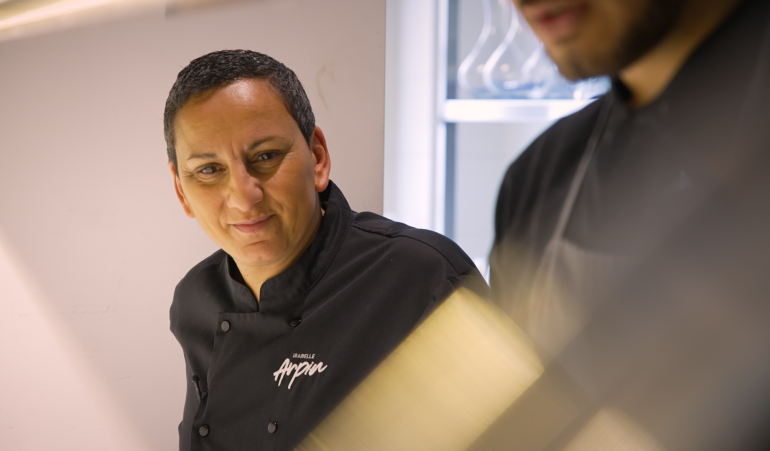 Sparkling eyes, a warm smile, rigour, kindness, creativity... Isabelle Arpin has all the qualities of a star. And not only because she is one of the few chefs in Belgium to have obtained one, and kept others along the way, but because she prepared the ground and showed the way.
French by birth, Belgian at heart and a born entrepreneur (it must be said that she was initially destined for finance before falling in love with cooking), in 2019 with her partner Dominika Herzig, the chef opened her own eponymous restaurant "Isabelle Arpin". She also has a caterer, "La Bonne Étoile", and has just become the chef of CIAO, a restaurant that allows her to support young emerging chefs in Italian gastronomy.
Because there it is, the touch of Isabelle Arpin, the Arpiness, as it is called; a taste for sharing, happiness in generosity. The 'Arpiness' of her surprising and creative cuisine, that of her teams, whom she motivates to do better and better, and that which is reflected in her social commitment. She is the sponsor of a cooking school for underprivileged children in Bali and the sponsor of the Free go solidaire association, which supports families in need and made meals for nursing staff during the Covid crisis. This commitment was praised in the book "Les héros du Coronavirus" in which she poses alongside the chef of L'Elysee, Guillaume Gomez.
The next challenge is the Dinner in the sky adventure, which will bring this gastronomic genius a little closer to the stars. In her words, "you have to love people to cook for them..." The stars are truly aligned to make the talent of this exceptional chef shine.    
Find out more
https://www.isabellearpin.com/
https://www.facebook.com/restaurantisabellearpin
https://www.instagram.com/isabelle_arpin_chef/?hl=fr
https://www.instagram.com/restaurant_isabelle_arpin/?hl=fr
https://www.ciao-brussels.com/
Les Belges Histoires - The talents of Wallonia-Brussels
WBI, in partnership with RTBF, invites you to discover the portraits of French-speaking Belgians who are promoting Wallonia-Brussels.
Discover the portrait series:
Pages