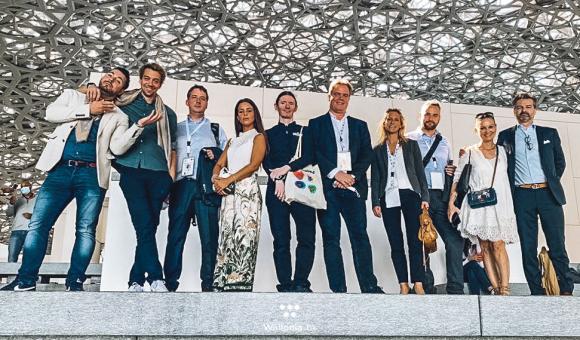 Wallonia feat. Dirty Monitor
The "multimedia", or rather "digital, image & sound" market, is a fast-growing market in the United Arab Emirates (UAE) and currently represents nearly 6% of GDP. To approach this regional El Dorado, which is constantly in search of "ever more beautiful, ever bigger", several leading companies took part in a multi-sectoral Walloon mission with AWEX and TWIST and led a series of workshops in the Belgian pavilion as part of the World Expo. We met one of these companies, Dirty Monitor, and reviewed their expansion in the Middle East, with anecdotes and tips.
Too big is never enough
The "multimedia" or rather "digital, image & sound" market is a fast-growing market in the United Arab Emirates (UAE) and goes beyond film and music production and simple broadcasting. In the Emirates, one of the most emblematic sectors is Live & Entertainment, which comprises a group of local and international players specialised in the production and performance of gigantic shows, concerts and events that match the image and size of the modern, globalised cities that Dubai and Abu Dhabi have become. Some Walloons, such as director Franco Dragone and his show La Perle, are already putting on shows for the public in these cities.
Sports federations and clubs are also popular and many local agencies are looking for the latest digital innovations for broadcasting these events and making them attractive.
Helping to attract holiday-makers from all over the world, the local tourism sector is also always on the lookout for original content and productions, for example using CGI (Computer Generated Images), the famous 'computer graphics' beloved of the film industry, or digital animations to showcase its tourist attractions and sites.
The video game and e-gaming sector is also very well established and is all the rage, especially in these cities, which have a largely young, connected, dynamic and internationalised population very keen on gaming. Several eSports hubs and VR gaming centres have been set up in the region.
Gaming, sports, live shows... The UAE wants to become a hub... for a bit of everything!
The digital image and sound sector represents 6% of GDP in the Emirates (Live Event & Entertainment, sports federations and broadcasting). While several companies specialising in Live Entertainment and broadcasting are based in Dubai, Abu Dhabi claims to be a strategic media hub and specialises in e-sports and video games. Video game sales are expected to reach $729 million in 2023. The Emirates also intend to become a hub for the media and culture industry. New museums are opening (Museum of the Future in Dubai, the Louvre and Guggenheim museums in Abu Dhabi), and the film scene is growing.
Companies can find real opportunities for commercial partnerships and investments in the digital sector. Many companies and agencies are on the lookout for new, cutting-edge technology nuggets. A delegation of member companies of TWIST, the Walloon sound, text and image technologies cluster, took part in the economic mission held at the same time as Wallonia Week at the Dubai World Expo 2020, as the United Arab Emirates offer real opportunities for prospecting in this sector. Many contacts had already been formed during a pre-mission organised by AWEX Dubai and TWIST in May 2021, in particular to identify partners for activities related to Live Sport & Entertainment.
And for Walloon companies? Are Dubai and the UAE still an El Dorado "where everyone is already there"? Is it an easy market to understand? We discussed this in the pavilion with Arnaud Meulemeester, International Business Developer & Project Manager at Dirty Monitor, a Charleroi-based company that has been working with Middle Eastern markets for a long time and was involved in the Multimedia workshops during Wallonia week at the Dubai 2020 World Expo.
Meet & greet with ARNAUD MEULEMEESTER, International Business Developer & project Manager at Dirty Monitor
Wallonia Export-Investment Agency: Hello Arnaud. How long have you been working with the UAE?
Arnaud Meulemeester (AM): Hello team. We started working outside Belgium very early on, because our country was too small a market for us in the medium term. We made a name for ourselves with our 3D mapping technology. The project that made us known was a show organised in the Forbidden City in Beijing. From there, we became known throughout the world, particularly with the Franco-Italian company Ruggieri, the world leader in pyrotechnics since... 1739! They asked us to put on a show to be projected on the Burj Khalifa (Editor's Note: the highest tower in the world) during New Year's Eve 2015 in Dubai. This was our first big project in the Middle East. They enjoyed the show so much that it has since become a permanent feature in Dubai. It opened all the doors to the ME.
Did this project allow you to make a name for yourselves and prospect in the region?
AM: Make a name for ourselves, yes, definitely. But we never really needed to do any prospecting. Here, everything works much more on the basis of relationships and word-of-mouth. Today, most of our clients are based in Dubai, but they generally work throughout the Middle East. For us, Dubai is a good starting point for spreading to the entire Gulf region (Qatar, Kuwait, etc.).
Are the Emirates a complicated market to approach? What do you absolutely need to consider?
AM: It's a market that has its own peculiarities, like every market in the world, but it's not particularly complicated. It is a very open, very internationalieed economy. In reality, we rarely work directly with local stakeholders. We mainly work with Belgian and European companies that are based in Dubai and deal directly with local economic or political players.
But it is obvious that culturally, you always have to be able to adapt. We are in very globalized countries, but we must not lose sight of the fact that we are still in Arab countries, with partners and decision-makers who have their own culture. You have to respect and remember that.
Could you give us an example of problems or particular challenges you have encountered in the UAE?
AM: I would say, without hesitation, the notion of time. Everything is decided late and executed very quickly, with timescales that we would consider here as last minute. Here is a very good example: We were asked to put on a big show for Saudi National Day... two weeks before the event! I still remember that we finished the project on a Thursday morning and one of our employees jumped on a plane to Riyadh with the hard drive. He arrived on Friday morning and was escorted from the airport to the venue by the army so that everything could be finalised in time. In the end, he finished setting up the projection just as the local authorities were entering the stadium. So when I say last minute...
But that is an extreme example; it's obviously not always like that. But there are elements of our business to which we must pay particular attention. For example, we have to be careful, when we project faces, to make sure they are not 'cut off' by windows or parts of the facade. In Europe it might be considered clumsiness, or even disregarded, but in the Middle East it is considered really insulting. So imagine if that happened at a royal performance... it would be the end of your Middle East adventure (laughs).
Is there much competition in the Emirati market?
AM: Yes. There is a lot of potential, but also a lot of competition. I would even go so far as to say that so much has already been done that it's no longer the 'El Dorado' it was ten years ago. The market is much more mature and the local authorities now want to push Emirati companies. This makes it more difficult for international companies to expand. They now have to increasingly go through local companies to continue their business.
Today, the country with the most potential, the most attractive country, is Saudi Arabia. It is developing quickly and there is a race to expand, in all sectors, between the various neighbouring states. They each want to make things bigger and better. This is obviously good news for our industry.
If I may offer some advice: Focus on the quality of your products and services. You have to offer the best. Above all, don't think that because they are relatively new economies, or because they still have strong local traditions based on professional relationships, these countries settle for little or are more easily satisfied. Too often, we have seen entertainment companies underestimate local expectations, and in the end it didn't work out.
How has the Wallonia Export-Investment Agency supported your regional development?
AM: We received a lot of information and studies from the Wallonia Export-Investment Agency in Belgium and the local teams in Dubai. These teams really are our eyes and ears on the ground. They also provide us with good connections and help us get into local networks, which is really useful because we can't afford to be everywhere at once.
What are your future projects in Dubai?
AM: We worked on the Saudi Arabian pavilion at the Dubai World Expo 2020. We are going to do the opening ceremony of the Gulf Sport Games (local Olympic Games) in Kuwait, during which we will break the record for the number of drones flying in an indoor ceremony. And we have a series of projects for the next few years, but I can't tell you about them yet... Surprise!
About the TWIST cluster
TWIST is the Walloon cluster for audiovisual players. It brings together private companies, universities, research centres, training centres and public authorities related to the media and audiovisual sector. Its role is to accelerate the economic development of its members and structure the sector as a whole. Today, TWIST has 105 members, representing 4,500 jobs. They all share recognised expertise in the audiovisual industry, either as technology users (service providers) or as developers of innovative technologies, particularly in the following fields: cinema, TV, animation, video games, Internet, mobile, augmented reality, trans-media, multi-screens, etc. 
In a nutshell, TWIST is aimed at three categories of customer: content producers (cinema, TV, animation, multi-screen), TV channels (development of innovative technologies and service provision) and communication and event players (Internet, web, mobile, multi-screen, augmented reality, etc.).
Author : Jonathan Avau (Wallonia Export)
Linked events