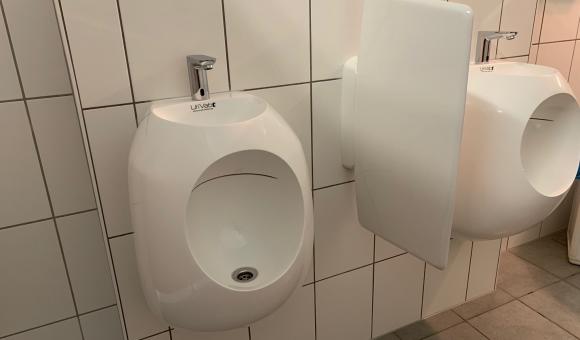 Ordinarily, washing your hands is a completely innocuous hygiene measure. With the health crisis that is currently facing us all, it has become essential to get rid of any microbes. Despite this, only 60% of men wash their hands after using the toilet, according to studies carried out in Belgium. This is why Olivier had the simple yet ingenious idea to create the Urivabo, the perfect combination of a urinal and washbasin!
Who would have thought that a urinal could become such an economical, ecological, hygienic, practical and even aesthetic concept?
In fact, in practical terms, in addition its dual use (urinating and washing hands) which gives it a considerable advantage, the Urivabo offers an obvious space saving. More urinals can be placed in the toilet area since there is no need for separate sinks.
As you may have guessed, it is environmentally-friendly because the water used for hand washing (in the upper part) is used to rinse the urinal (in the lower part). This clearly makes the Urivabo unique.
For the hygiene conscious among you, there is no need to worry: since you no longer need to move from the urinal to the sink, there is no excuse not to wash your hands immediately. The run-off water, which is used to clean the urinal, will ensure that the urinal is always perfectly clean. This will save you 85% on your regular water bill.
The icing on the cake is that this unusual object is highly aesthetic since it is not only available in a range of different designs but can also be customised.
In short, a great idea which thanks to Olivier, an architectural draftsman, is now a reality. Although the target market is currently still the public sector and places frequented by many people, you can also buy one privately.
The product has already been sold in France and Luxembourg, so why not at home?  Simply contact this great little company, based in Beloeil.
Linked events