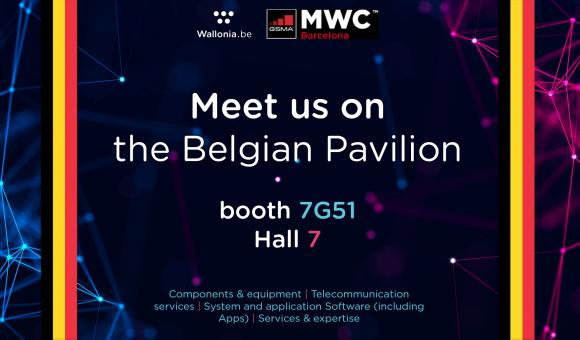 The Belgian Pavilion (Hall 7 – Stand 7G51) will host 27 Belgian companies from 28th of February to 3rd of March at Fira Barcelona. Ten of these companies will represent the Walloon digital sector.
If you are going to attend Mobile World Congress 2022 in Barcelona, consider stopping at the Belgian Pavilion ! The delegation will be made up of companies active in different sectors such as Components & equipment, Telecommunication services, System and application Software (including Apps) or Services & expertise. 
Let us introduce the companies from Wallonia !
AGC develops Smart Windows Solutions with « Wave by AGC » : innovative glass solution for connectivity. Wave is a project initiated by AGC whose mission is to provide innovative telecom solutions for better connectivity in urban outdoor and indoor environments or to shield spaces from RF signals with transparent panels. On its side, AGC automotive delivers smart windows for mobility (cars and public transport). 


 
IntoPIX is about Better Pixels and Simplified Connectivity. IntoPIX is a technology provider of video processing and image compression, cryptography, high performance computing and micro-electronics. IntoPIX is simplifying the video connectivity with zero latency, reducing power consumption and increasing image quality in many devices and applications. At MWC, they are showing how sensors and cameras, automotive ADAS systems, mobile devices, 8K or 4K video and display systems, wireless AV and cloud gaming applications get benefit from the intoPIX innovation. Main references: Sony, Nikon, AWS, Christie, and 150+ customers worldwide.
Tessares : Seamless Multipath Connectivity.  Tessares is a technology company that develops software solutions for ISPs / MNOs / MVNOs to deliver improved Internet connectivity by combining existing networks. Range of products: Seamless, Overlapping Mobile / Wi-Fi Handovers; Fixed-Mobile Hybrid Access; MultiWAN solutions for Industry 4.0. Tessares offers a new application of MPTCP to Wifi / 5G-6G allowing better performance and resilience of service as well as cost optimization for the telecom operator. It is noted that Apple and Samsung phone already have this MPTCP technology in the smartphone and therefore the implementation should only be done on the side of the operator!
d-event by Beblockchain offers you Decentralized Ticketing and Cashless Solutions. Be Blockchain is a consultancy and development company specialized in Web3 integration and blockchain technologies. d-event is an all-in-one solution: ticketing, cashless, marketplace, advertising. With d-event, everything is done transparently and securely on a decentralized peer-to-peer network relying on blockchain technology. The user can buy tickets and NFTs, exchange them with friends, pay for drinks on the spot, book online…Anyone can create, manage and own a wallet dedicated for events, bars, merchants or even hotels in the spirit of a local economy.
Back2Buzz 360° Smartphones Solution / refurbished phone. Back2buzz is the selected solar impulse solution for an efficient mobile solution with refurbished smartphones, bio-degradable accessories and buyback solution.
CE+T Power  Critical Back Up Power. CE+T Power is a Belgian company with international footprints, supplying high-end converters for mission critical applications. CE+T helps clients to reach zero downtime in business continuity.
GlobalTT Internet Satellite Service. GlobalTT is the unique private internet satellite operator in Belgium. They offer reliable, stable and independent internet satellite connectivity directly from the European IP fibber Backbone for EMEA regions.
Kabelwerk Eupen AG RF Cabling Solutions. Kabelwerk Eupen AG is a European leader in the production of cables and wires of various types; coaxial cables and accessories for fixed and mobile communication, radiating cables for tunnels and confined areas, hybrid power/fiber cables and fiber optic cables.
Multitel 5G, AI, Cybersecurity. Multitel, a non-profit Research Centre, offers a range of on-demand services, technical support and R&D projects both in B2B and in consortium, in various sectors of activities.


 
MyGlobalVillage – Village Francophone is a point of convergence between delegations, startups, investors and decision-makers during major international events. On the sidelines of the physical event, pitch sessions are organized during which innovative startups can present their technologies, products and services. Discover the full program and practical information for this parallel edition to Mobile World Congress 2022.