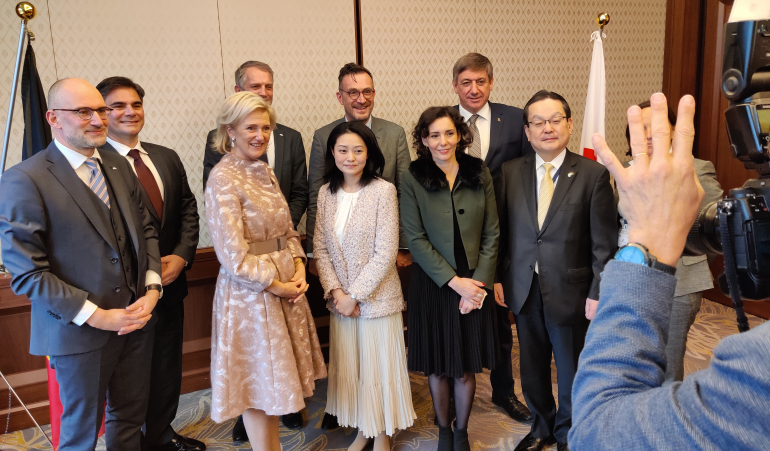 The Belgian princely mission which took place from 2 to 10 December 2022 in Japan was an opportunity to strengthen the ties between our two countries, more specifically in terms of economic relations. For decades, Japan has invested massively in Belgium for the long term. It was the first Asian investor in Wallonia, before being joined recently by the People's Republic of China. Japanese investments are set apart by their high technological and scientific value. This is the case of the global biopharmaceutical leader Takeda which is also illustrated by its environmental and social ambitions. 
The Wallonia Export & Investment Agency (AWEX) and Wallonia-Brussels International (WBI) took part in this Belgian economic mission led by Princess Astrid, Representative of His Majesty the King. AWEX took 51 Walloon companies to visit Tokyo, Nagoya, Osaka and Kyoto.
First stage: Tokyo on 5th December where Princess Astrid and Pascale Delcomminette, CEO of AWEX, met Mrs Takako Ohyabu, director of general affairs and sustainable development, the department that supervises Takeda Pharmaceuticals's communications, its social responsibility, public affairs, safety, crisis management and sustainable development worldwide.
Wallonia renewed its trust in the Takeda group's activities in Belgium and the region's support not only in the development of its activities but in the achievement of its environmental and social ambitions. AWEX confirmed its support within the framework of graduate and staff training, not to mention training which aims to adapt the staff to the technologies of tomorrow but which are already part of the present: human augmentation, cobotics and artificial intelligence.
Takeda confirmed that the quality and skill of the Lessines staff, founded on over thirty years' experience, made this site especially important for the group. It also emphasised the crucial importance that Takeda places on its social responsibilities which are embodied by the visionary spirit and momentum of its management in Japan and Belgium.
About Takeda Lessines 
The Lessines plant which employs 1,200 people specialises in the purification and filling of plasma-derived therapies. Every year, Takeda Lessines produces 36 tonnes of IG (immunoglobulin, more commonly referred to as antibodies) that is purified and filled, and 8.4 million packaged bottles. Lessines plasma-derived medicines enable over 300,000 patients suffering from rare and complex chronic diseases to be treated each year, thanks to life-changing treatments.
In September, the Japanese group announced 360 million euros of investment to establish a new production line (still in Lessines). Other investments are planned to enable the production centre to achieve carbon neutrality by 2030 (and 60% in 2025). It is one of the pioneers of the pharmaceutical industry in the area: Lessines was the first pharmaceutical site in the world to receive the Lean & Green prize, a European environmental certification programme that recognises efforts to reduce carbon emissions.
The site aims to achieve an 85% waste recycling rate in 2025. It installed 8,000 solar panels in 2021 and soon plans to install 8,000 more. It also recycles 600,000 m3 of wastewater for use in manufacturing, which reduces the site's total fresh water use by 90%. This is equivalent to the water consumption of 18,000 Belgian people – approximately the population of the town of Lessines. In the near future, Takeda also plans to install wind turbines and a geothermal station on its Walloon site.
Japanese investments in Wallonia
In comparison to other Asian countries, Japanese investments are characterised by high financial added value (ratio between the amounts invested and jobs) in cutting-edge sectors and also, within the framework of a long-term strategic vision. In Wallonia, the four main sectors that are popular with the Japanese are glass, automotive, life sciences and mechanical engineering.
Japanese companies' strong anchorage in Belgium and Wallonia is due to the fact that here they find know-how, local skills, a market for their products and above all an industrial culture that places importance on employees (source of value creation) in respect of management (or shareholders like in the United States, for example).
Also note the companies NGK (specialist in ceramics which produces spark plugs) and Aisin (gearbox manufacturer) in particular, which have been active in our country for over forty years and respectively employ 300 and 800 people. They are not reducing their number of employees and are continuing to invest (NGK 45 million in 2021 to adapt its production to new European standards) despite the difficulties in the automotive sector and the administrative obstacles (in particular for work permits). 
Linked events