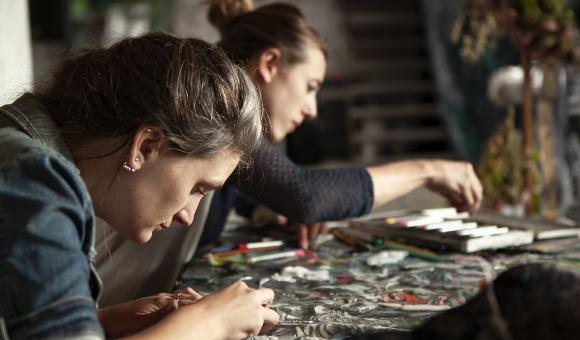 After graduating in 2012 from the prestigious Ecole Nationale des Arts Visuels de La Cambre in Brussels, designers Erika Schillebeeckx and Justine de Moriamé decided to join forces to create KRJST. The result was a line of contemporary, unisex, Japanese-inspired clothing that made use of prints. Five collections and various collaborations later, with international brands such as Huawei and Eastpack, the two designers decided to go wherever their curiosity led them.
In 2016, they founded Studio KRJST, a research lab where their passions for art, graphic design and craft intertwined. They researched, worked and explored the many facets of textile creation, including weaving and tapestry. Completely self-taught, they developed their own techniques, each working on their own before combining the results of their experiments in a final piece of work.
These contemporary tapestries, which were dreamlike, disturbing and full of hidden details, attracted art galleries but were also spotted by a luxury carpet manufacturer from Antwerp with whom they created magnificent pieces. Their success also led them to work in the design and scenography of venues, (restaurants, stores, commercial spaces such as Maasmechelen village).
In 2018, Belgian architect Xavier Houben commissioned them to design the Silversquare project. This is a co-working space in Brussels. The 7,200 square metre area saw them produce their work on new media such as furniture, wallpaper and floor covering. A step had been taken and they decided to continue their association with the architect by developing a line of furniture.
"Like two insolent women, we want to continue doing what we like without being afraid of what will happen." And Erica adds, "Experience is good, but we'll try to remain beginners so we always have the energy of surprise."
Playing an active role on the Belgian scene, Studio KRJST has also gained international recognition through collaborations with famous galleries. This international presence via galleries has allowed new audiences to discover their work. Paris, Brussels, Maastricht, London, Milan, Zurich, Hong Kong, New York and Beirut are just some of the destinations that have already hosted the works of Studio KRJST, and clearly with great enthusiasm.
With their eyes turned towards the future, Erika Schillebeeckx and Justine de Moriamé are tirelessly weaving the threads of their destiny. A destiny bound for success that will continue to amaze us.
Discover the other episodes : https://www.youtube.com/playlist?list=PLR92G6D3xglDTnzUhIcuqWPgWfrbIu_FH
Les Belges Histoires
WBI, in partnership with RTBF, invites you to discover the portraits of French-speaking Belgians who are promoting Wallonia-Brussels.
 
Discover the portrait series: https://www.wbi.be/les-belges-histoires
 
Linked events