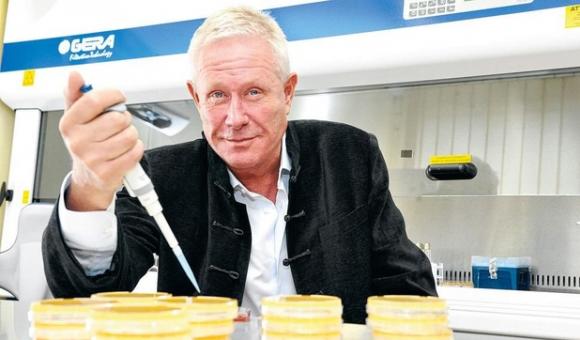 Mindful at its own level, and during this period of a scaling back of lockdown, to participate in the response to an unprecedented health crisis, Vésale Pharma has decided to offer specifically adapted probiotics free of charge for 3 months to around 1,500 residents of nursing homes and care homes, which will rebalance their microbiotic flora and strengthen their immune capacity.
Vésale Pharma is a Namur-based company active in the research and development of advanced microbiotic solutions. "These days, everybody knows the importance of a good intestinal flora to preserve immunity and health," explains Jehan Liénart, CEO of Vésale Pharma. 
"The current scientific data and the studies available to us suggest that taking probiotics can, on the one hand, strengthen everyone's immunity, but also of residents of rest homes and nursing homes, and, on the other hand, help prevent various viral and/or bacterial infections," confirms Dr. Karl Richir, Medical Director at Vésale Pharma.
Probiotic supplements may be of particular interest to the elderly in this regard. These people are at greater risk of undernourishment and also have a more unbalanced microbiota (dysbiosis).  
"Various studies have shown that the microbiota of the elderly contains more "gram-negative", or pathogenic, bacteria, which increases intestinal permeability and the risk of inflammation," adds Dr. Richir. "Nonetheless, elderly people living in nursing homes often have dysbiosis and the preventive use of probiotics can be more than beneficial".
"It has indeed been observed that elderly people living in communities are the people most at risk, and that it is in these environments that the spread is highest; and there, the more beds there are, the greater the promiscuity and the greater the density of particles. Vésale has therefore chosen to help them as a priority and, since no two microbiotic solutions are the same, by offering specifically adapted products (such as those in the Bacilac+VitD range, for example), concludes Jehan Liénart.
 Vésale Pharma will provide rest and care homes with a minimum of 100 beds, around 4,500 boxes of Bacilac Forte and Senior whose strains are the most documented at present and which, combined with Vitamin D, are particularly suitable for our seniors. 
Further information:
Dr. Karl Richir 0497/592.112