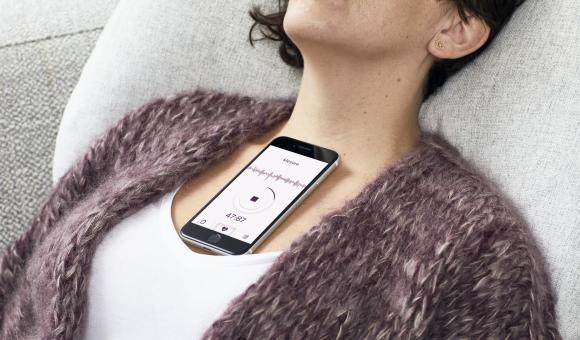 Sambrinvest (Charleroi), BeAngels and Plug and Play (United States) will invest nearly 3 million euros in the Charleroi-based spin-off of the Université Libre de Bruxelles, HeartKinetics, which has developed an application that allows patients to easily measure their cardiac activity and share the collected data with their doctor. This technology, initially developed to monitor the heart rate of astronauts on their return to earth, could revolutionise the management of heart disease through its ease of use.
Co-founded by Pierre-François Migeotte, a doctor of physics with a passion for space whose father was a cardiologist, HeartKinetics was first developed to prevent the heart failure problems that astronauts who spend long periods of time in weightlessness aboard the international space station may encounter.
After many years of research and development, the spin-off based in the BioPark in Gosselies has developed kinocardiography, an AI-assisted solution for monitoring cardiac mechanics and heart rhythm. This is the birth of the Kino-Mobile application, which measures the microvibrations of cardiac activity using the movement sensors of smartphones and algorithms.
The patient remotely records the intensity of their heart contractions by simply placing their smartphone on their chest. The collected data is then analysed before being interpreted by an artificial intelligence that shares diagnostic recommendations in less than two minutes on a Web portal (KINO.pro) that the doctor can access via a dedicated space. They can then carry out a complete assessment of the patient's cardiac activity remotely.
This will save time and should significantly ease the management of consultations.  But the added value lies above all in the speed of diagnosis, as many patients are diagnosed too late.
"More than 40% of cases are not diagnosed by a general practitioner but in A&E," explains Pierre-François Migeotte, co-founder and CEO of the spin-off. "Our app is not intended to replace the cardiologist's tools, but to improve and facilitate diagnoses by allowing the most comprehensive assessment possible of heart function to be performed remotely."
In 2017, HeartKinetics won the European Heart Rhythm Association's Innovation Award for its Kino cardiograph, which was the prototype for the app. Since then, it has been successfully tested in medical environments, paving the way for commercialisation. These new funds will allow the company to step up production of the application and begin the steps for obtaining authorisations on the various markets in which it will be sold, a priori by next year; in Europe first, but also in the United States, the Middle East and Asia.