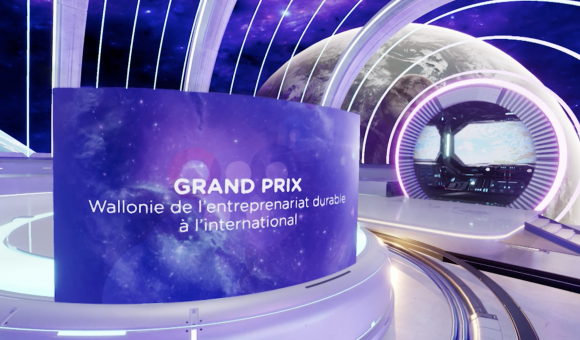 The Wallonia Export Grand Prix ceremony rewarded the six companies that have fared particularly well internationally during 2020. Due to the Covid-19 crisis, this year's event was 100% virtual. It was an opportunity to open up the event to everyone and do everything possible to promote our businesses thanks to the talents of another internationally renowned Walloon gem. Thanks to its innovative virtual decors, augmented reality and even teleportation, Dreamwall offered us an evening worthy of the winning companies, devoted to wonder and technological excellence.
With an economy resolutely focused on the international market, Wallonia's prosperity and visibility are mainly based on its companies' export performance (70% of turnover is created internationally, i.e. more than double the European average). So it was to reward and promote the companies that have progressed the most by increasing their export volume or conquering difficult markets that the Walloon Export-Investment Agency (AWEX) set up the Grand Prix Wallonie à l'Exportation (Wallonia Export Prize).
Reconciling sustainable development and international economic performance is possible! That is why this year, for the first time, an award was dedicated to sustainable development. Taking account of sustainable development in a management strategy has indeed become a source of opportunities, a necessary transition for adapting to the expectations of customers and partners worldwide.
And the winners are ...
SPRINGBOARD Award for Europe: This award is presented to a company whose average export turnover for the last three financial years has not yet reached 70% but which has stood out particularly due to its European Union performances.
Winner: Sortlist
Sortlist is a platform that connects companies of all sizes with service providers in the fields of marketing, creation, design and web development. Sortlist uses a database and artificial intelligence algorithms to allow searchers to quickly find the supplier that best meets the expectations of the project owner.
SPRINGBOARD Award for Large-Scale Exports: This award is presented to a company whose average export turnover for the last three financial years has not yet reached 70% but which has stood out in particular due to its "large-scale export" performances, i.e. outside the European Union.
Winner: ImmunXperts
ImmunXperts is a research company specialising in the development of tests that help pharmaceutical companies select their best drug or vaccine candidates prior to clinical development. ImmunXperts is also very active in the field of immuno-oncology.
EU Export Award: This award recognises an export company that is particularly worthy due to its performances in the European Union.
Winner: Vinventions
Specialising in corking solutions for still wines, Vinventions also offers analysers, equipment and oenological services for improving the quality and regularity of wine production through real-time quality control.
Award for Large-Scale Exports: This award recognises an export company that is particularly worthy due to its performances outside the European Union.
Winner: Pharma Technology
Specialising in the development of equipment for the dry form pharmaceutical industry, Pharma Technology manufactures various pharmaceutical process machines such as tablet or capsule dedusting/polishing devices, metal particle detectors, and drug quality control systems.
Grand Prix for Sustainable Entrepreneurship Internationally: This prize rewards a Walloon company that has successfully deployed its business internationally thanks to the sustainable transition of its products/services or the company's "organisation" (management system).
Winner: AMB Ecosteryl
AMB Ecosteryl designs, manufactures and markets environmental solutions for the treatment and recycling of infectious medical waste. It has become an international leader in its field. The process it uses is dry heat decontamination via microwave, a technique that consumes no water and little electricity and does not release toxic fumes. It should be noted that as a result of the Coronavirus health crisis, AMB Ecosteryl has developed a decontamination machine for surgical masks and FFP2 masks. This means that masks can be used four times instead of once.
Wallonia Export Grand Prix: this recognises the company that has most substantially improved its performance and position both in the European Union and in terms of large-scale export.
Winner: Kitozyme
KitoZyme is a biochemistry and biotechnology company that offers plant-based, biodegradable, non-toxic and non-GMO solutions to food and pharmaceutical industries seeking to reduce or eliminate products made from synthetic chemistry, microplastics and animal derivatives. The company therefore manufactures biopolymers that are unique in the world, with a patented process that uses co-products from the food industry, and is thus part of the circular economy.
Awards and Trophies
Among the prizes the winners will receive is a training grant offered by CERAN, which specialises in language and intercultural training. AWEX will also offer the opportunity to participate in an international AWEX mission, articles in AWEX publications and ... a uniquely designed trophy.
"Designing a trophy that rewards export companies means designing and producing the qualities and image we want to convey internationally" explains its creator, Michaël Bihain. With this trophy, I wanted to create a strong, perceptible global identity while demonstrating that we know how to respect our competitors."
So it is the STAR trophy that will be awarded. It is a simple trophy, strong yet dynamic. "It's both a trophy and a contemporary sculpture. The six trophies are all identical (except for the mention of the award, Ed.). They can be placed on top of each other to become one," says Michaël Bihain. "Each winner will have the feeling, despite their victory, of being part of a whole: that of Walloon companies and ecosystems, all needing each other to shine within and beyond our borders".