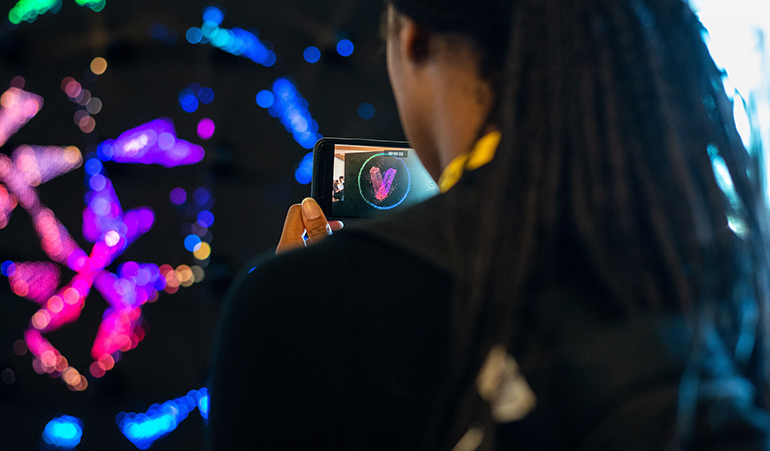 Wallonia offers a favorable environment for the digital sector, with a skilled workforce, tax incentives, a strategic location, a dynamic ecosystem and quality infrastructure. Innovative solutions are flourishing in our region and they will be represented in Paris at Viva Technology, which will take place from June 14 to 17. Discover them today !
AEONICS
Aeonics offer a deep tech server software for integrators to disrupt how digital services and microservices can take an active part in a sustainable IT initiative with a strong focus on business value and cybersecurity.
BACK2BUZZ
Back2Buzz CSR solutions for mobile phones and accessories, make it possible to take up environmental challenges and to effectively support individuals, communities and companies in their green transition. Back2Buzz solutions are clean, responsible, cost-effective and have been evaluated by independent experts for their environmental and economic performance.
BOUNCE
Bounce makes tennis and padel tennis sustainable by having an impact on the entire life cycle of the balls:
1. The bounce tube (for players) and the bounce pro (for clubs) multiply the life of the balls by 3
2. The bounce circular programme collects used balls and recycles them
CAPFLOW
Based on user feedback, Capflow has developed unique management solutions tailored to customer needs. With two user interfaces based on Windows and the web, the company has added smartphone applications to the Flexipark, FlexiGuard and EVSmart software suites that allow users to stay connected to their solutions from anywhere.
D-CARBONIZE
The Carbon Cockpit has the precision of a carbon auditing tool and the user-friendliness of an online app. It allows a multi-site company to drill down on site-specific total CO2-equivalent emissions. The Carbon Cockpit also enables companies to track CO2 emissions related to their products through product life-cycle analysis. The Carbon Cockpit supports 5 languages.
DIGITEAL
By developing invoice presentment, payment and open banking solutions, in partnership with integrators, invoicing & accounting softwares, Digiteal allows companies to get paid faster, more regularly and at a lower cost.
EXTHAND
Exthand allows their clients to access one API that connects to the API's of 95% of the banks in Europe, UK and Israel. These API connections allow for two things: instant, Account to Account payments and the retrieval of data from bank accounts in these banks. This can be used to make payments cheaper and faster, do credit scoring, improve accountancy flows and much more. Talk to us to learn everything!
GAMBIT
Gambit can help banks deploy multiple customer journeys based off the same platform. Benefits of this approach include economies of scale, faster time to market, investment strategies aligned to each segment, differentiated customer digital experience, increased revenue streams and customer loyalty.
GLOOH
With the Glooh platform, you can book, create and monitor smart digital out-of-home campaigns all in one place. Thanks to a multi-network inventory, you can choose screens in more than 10 different atmospheres all over Benelux and France, with possibilities to go even further thanks to our planning experts, who can guide and advise you to make your campaign super smart and efficient.
GRALITY
Grality is the first ERP for trees management. Our application makes it a lot easier to handle thousands of trees, acres of green spaces. Optimize its environmental performance (CO2 capture, mitigation of urban heat islands, biodiversity), help the teams/contractors with an accurate shared information, follow-up the works, improve value for your budgets.
HOLIFRESH
Are you also tired of managing paper for your quality? Our digital systems increase your cold chain safety with IOT sensors (T°, humidity, CO2) and the control you have in your kitchens. With our different solutions, you save time and avoid the risk of coding errors!
HOVERTONE
Our creations break down the barriers between digital content and interaction in order to reinvent human experiences through new technologies. Thanks to our expertise in new technologies, coupled with our extensive experience in audiovisual content creation and furniture design, our extraordinary installations leave a lasting impression with new, captivating and robust experiences.
INMERSIV TECHNOLOGIES
We aim to reduce the drug burden of institutionalized patients through the use of immersive and interactive technology. Our solution does not require a VR headset or any wearable, offering a shared immersion in a multi-sensory environment. These experiences are generated according to each patient's medical profile in order to match their emotional needs.
INSENS
Insens proposes RED, a condition monitoring system based on the electrical signature of AC motors that allows you to eliminate unplanned downtime and reduce energy consumption of rotating production equipment such as pumps, fans, conveyors, mixers… RED is an AI based machine monitoring system and is installed inside the motor control cabinet far from hazard, submerged or ATEX environment of the machine.
IO.LAND
IO.LAND's offerings excel at bridging strategy, objectives, and operations, facilitating clear communication and efficient project management. This results in enhanced collaboration and organization across diverse teams and projects.
KEEPIOT
In 2016: the company wanted to diversify by opening its CONNECTORS to electronic sensors, always with the aim of better managing information, by combining it with management data. We combine all types of plug&play sensors, controllable sensors, allowing real time statistics, for alerting in case of malfunction or for control. In 2021: a partnership is forged with the French company ConsultingIoT to increase the company's know-how. KeepIoT-ConsultingIoT assists you in the design, evolution and development of your need. We offer tailor-made support to ensure a simple, fast and efficient implementation. Our technological choices are in line with your budget constraints and target markets. 
LEVITA
For the first time ever, we offer a 100% controlled levitation to highlight your product without any visible support, creating a fully immersive visual experience and adding various types of movement to your display such as rotating the product to offer a full 360° rotating view to show its smallest details.
MINTT
Our fall detection system offers older adults better quality of care while giving them greater autonomy. By alerting the medical staff in real-time in case of a fall or risk of falling, this technology helps take preventative measures. We offer comprehensive analyses of falls, allowing caregivers to propose personalised care and reduce the risk of falls.
PHOENIX AI
Green computing (10-15watts) electronic boards with up to 5000 times less bandwidth than a regular CCTV camera supplying edge on-device AI for local networks while being 100% RDGD compliant.
SAFEXP
SafeXp, an application designed with a focus on community and safety. Our platform is your bridge to connect with fellow cyclists, ensuring you'll never have to ride alone, whether on weekend trips or daily commutes. Plus, SafeXp provides a unique opportunity for cycling events to engage effortlessly with our vibrant community. Connect, ride, and experience the world of cycling like never before, with SafeXp!
SATOCHIP
Thanks to its pocket size, Satochip products are accessible to all and easy to use. The customization of the products gives an interesting attractiveness and, coupled with a price defying the competition, offers a highly secure solution for everyone. Last but not least, our solutions are compatible with mobile phones thanks to NFC connectivity✌️.
SELINKO
Selinko gives luxury brands a digital identity and creates the link between the physical product and its digital twin by embedding either a secure NFC chip or a serialized QR code in products. Consumers can scan the products with their smartphone, giving them instant access to unique product and brand information. Selinko's innovative solution creates a trusted one-to-one communication channel which gives brands the ability to provide high-value added digital experiences pre- and post-sale. Our solution provides a stronger digital experience and endless opportunities for the brand to engage with their clients, whether they purchased in-store, online or second hand. 
WESHRE
WeShre is the only C2C platform that helps its users to organize festive, cultural, and sport events by users for users. Its competitive advantages lie in its user-friendly interface, centralization tool for each type of event, mix of virtual and real social life, all in a secure package. WeShre is the ultimate all-in-one tool for enhancing your social life.
Pages