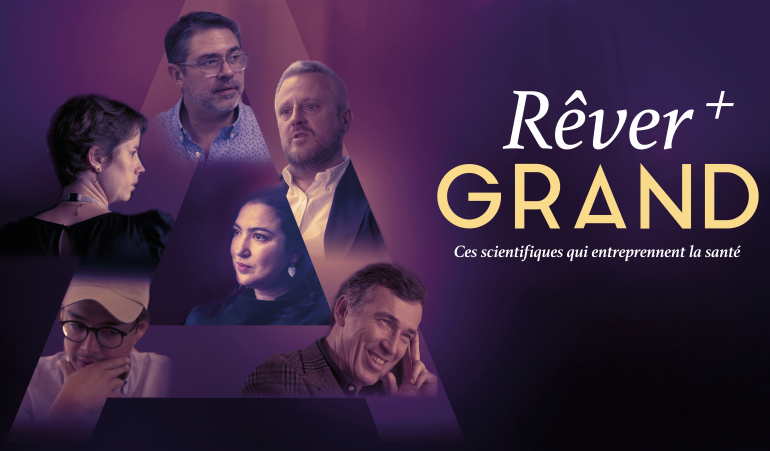 Doctors, biologists and engineers: six Walloon researchers and entrepreneurs from the healthcare sector have been filmed for a year for this documentary series, which should inspire many professionals. Amel, José, Denis, Stéphanie, Michel and Louis-Philippe are passionate about their profession, and discuss their aspirations, triumphs, doubts and the challenges they face on a daily basis. There are six 26-minute-long episodes, which the creators, Jeanne Hebbelinck and Frédéric Moray, have carefully produced with an aesthetic worthy of the big screen, so that we can discover life sciences, a particularly rich and state-of-the-art sector in Wallonia, from an insider's point of view.
Over twenty years, Wallonia has become a key international player in the field of scientific research. Men and women have decided to dream bigger and create innovative healthcare solutions, thanks to the technological knowledge passed down from our strong industrial history. Vaccines, cancer treatments, cell and gene therapy, reconstructive surgery: concepts from Walloon scientists and business leaders have now spread all across the globe.
Six scientists and entrepreneurs agreed to reveal their struggles to offer patients better therapeutic solutions on camera for one year. From hopes to failures, doubts to triumphs, creating biotechnology innovations is like a real-life thriller, set against the backdrop of millions of dollars, diseases to be treated and human lives in need of saving. In order to tell these stories, the creators focused on people. Each participant describes their own journey. When told together, all these stories recount the incredible boom of this industrial sector in Wallonia, with all its challenges and promises.
Today, Wallonia can count on the excellence of its universities, but also the economic hubs created in Gosselies (Biopark), Liège (Légiapark) and Mont-Saint-Guibert (Louvain-la-Neuve Science Park). Between them, they are now home to a significant number of the companies in the biotech and medtech sectors, and which will see many job offers announced in the years to come.
This series is also an opportunity to encourage professionals in a sector that is facing a shortage, since training does not keep pace with the creation of companies. Each year, 350 job offers are created, but companies are struggling to recruit. As a result, there are new challenges in terms of training. Innovation in the healthcare sector is not just a job for doctors, biologists and chemists. There is an increasing need for qualified production and management workers in the sector (engineers, IT specialists, mechanics, managers and financial managers). What could be more effective in attracting young people to this flourishing sector than the example of participants who are trained and developing industrial activities in our region. 
Jeanne Hebbelinck and  Frédéric Moray, the creators of the documentary series: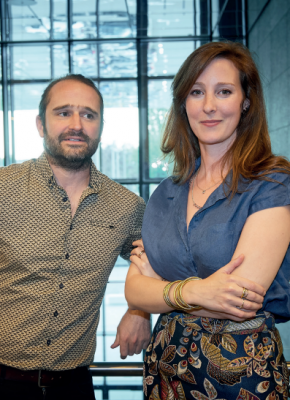 Thanks to the incredible work of Chief Operator Alexandre Cabanne, who was the second assistant cameraman on Ken Loach's last film, the creators immerse the viewer in a fictional reality, giving their own perspective on the story that emerges from the journeys captured on film. In the same spirit of promoting Walloon talent, the film crew called on the mesmerising folk/rock group Pale Grey and the rappers from the incredible Glauque. Maxime Lhuissier and his Danube project complete the soundtrack for this documentary series.
Pale Grey band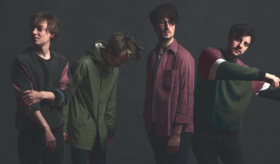 PARTNERS
This project was produced with the help of the Wallonia Export & Investment Agency (AWEX), the RTBF, the Walloon audiovisual and gaming financial fund Wallimage, the DG06 Tax Shelter, the Wernaers, Sambrinvest, Wallonie Entreprendre and EyeD Pharma funds, the Bronromme estate, Equans, Eklo, Noshaq and the Walloon healthcare hub Biowin.
THE RELEASE OF THE SERIES
One episode will be broadcast on Une every Friday at 11.30 pm between 28 July and 1 September. The series will also be available in its entirety on Auvio from 28 July. 
Pages