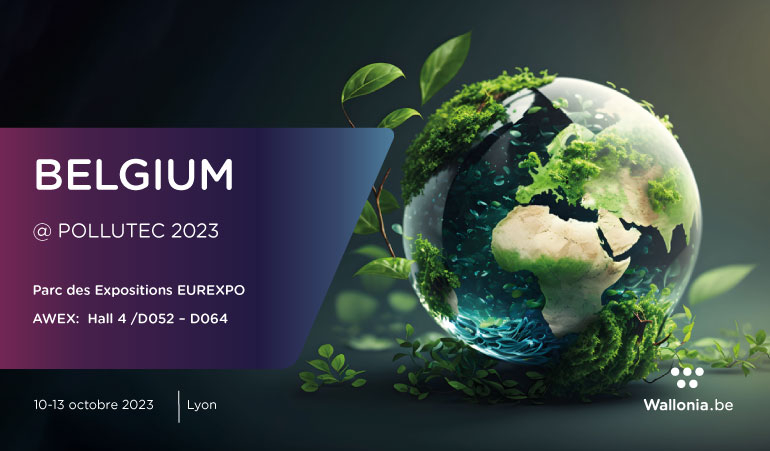 In less than a month, the world's largest trade fair for environmental solutions will be opening its doors in Lyon. It's a major event for networking, exchanging best practices and discovering the latest equipment, technologies and services aimed at meeting climate and ecological challenges. Wallonia will be showcasing its latest eco-innovations, particularly in circular materials, air, soil and water treatment.  Around twenty companies will be taking part, along with the Walloon Cleantech cluster, GreenWin, the H2O Cluster and the Centre Terre et Pierre with its Remind Wallonia (Reverse Mineral Industry) platform, dedicated to the circularity of minerals.
Here's a brief introduction to each of them before you get the chance to discover them at Pollutec from 10 to 13 October 2023.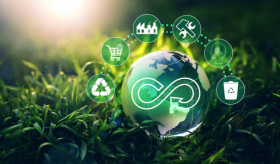 E-biom : genetic analysis laboratory dedicated to conserving biodiversity and protecting the environment.
Flow-Tronic : flow measurement instruments for the water and wastewater industry.
Fondatel Lecomte : Belgian foundry specialising in cast iron for roads and street furniture. Climate-neutral, it now incorporates 90% recycled materials, and its cast iron products are 99.9% recyclable.
Glutton: the world's most efficient electric waste hoover. Electric hoovers and street sweepers that are economical, ecological and ergonomic.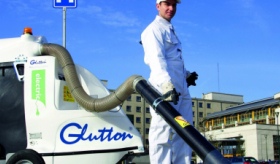 @Glutton
John Cockerill : water treatment, air pollution control and odour treatment, thermal treatment of solids and electromechanical operating, monitoring and control equipment for hydraulic structures on rivers (locks, dams, port sites, etc.) and road infrastructure (tunnels, bridges, etc.).
17 other Walloon companies active in Cleantech will be exhibiting on the stand of the Wallonia Export & Investment Agency. Well positioned in the show's main hall (Hall 4), the Walloon stand will be joined by pavilions from Switzerland, the Grand Duchy of Luxembourg, Canada, the Auvergne Rhône Alpes region, Bavaria and Italy, this year's guest of honour. 
Anatis : treatment and recovery of the organic load in water. The Fluid-Anyole process, developed in partnership with Eloy Water, is particularly well-suited to the treatment of oily water discharged by certain agri-food and phyto-pharmaceutical industries. Its unique feature is that it recovers biomass, which is present in large quantities but difficult to manage, and transforms it into energy that benefits industry.
Carrier Europe : design and manufacture of vibratory equipment for processing bulk materials: conveyors, feeders, screens, dryers and fluidised-bed coolers. Tailor-made designs for a wide range of industries: recycling, wood, chemical and petrochemical, food processing, foundries, metals, quarries, etc.
CTP (Centre Terre et Pierre) : an internationally-focused research centre dedicated to mineral processing, extractive metallurgy and materials engineering. 
Dc Environment : specialises in environmental engineering work (treatment of polluted sites and soils, both in situ and ex situ). Its treatment tool transforms waste into a high added-value product suitable for noble uses in the construction sector. This tool is essentially based on granulometric separation in a fluid stream. 
Ecosteryl : 100% electric machines for decontaminating infectious medical waste. Ecosteryl 250 shreds and decontaminates from 250 to 300kg of waste/hour and R-steryla has been specially developed for sorting decontaminated medical waste (it separates the flow into 3 fractions, 2 of which are recoverable).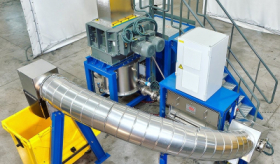 @Ecosteryl
HB Drilling : wastewater and sludge treatment. More recently, HB Drilling has developed surface water treatment solutions to help its customers comply with the increasingly stringent discharge standards imposed by legislators, as well as drinking water production equipment in a container fitted out as a stand-alone unit that can be installed in peri-urban and rural areas with no distribution network.
Haemers Technologies : rapid, effective soil decontamination (hydrocarbons, heavy metals). The acquisition of LNAPL Skimming technology also enables them to treat groundwater. Thermoreact® is a patented product designed for use with thermal desorption systems. It neutralises and transforms polluted vapours into inert compounds. In addition, their technology effectively depollutes Japanese knotweed rhizomes by heating the soil to 50-60°C for several days, thereby preventing regrowth. 
Idrabel : biological solutions for treating organic pollution in water and sludge. Storable and easy to use, they are used in water bodies (de-silting and de-pollution), sewage networks and treatment plants.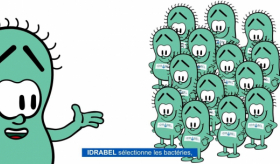 @Idrabel
Menart : innovative machinery, equipment and installations for the recycling and composting industries (shredders for branches and green waste, windrow turners and rotary screens for compost).
Odometric : laboratory and design office specialising in the measurement and management of odours and gases, from measurement to monitoring over time, including capture, ventilation, treatment and impact studies. Development of a public environmental observation platform (Synergy). 
Pipe Consult : trenchless inspection, maintenance and rehabilitation of pipes. Their THP/UHP water-jet hydro-demolition robot removes large obstacles from pipes of all shapes and sizes. 
Remacle :prefabricated concrete products for the construction, garden and water sectors (rainwater tanks, water treatment plants, etc.).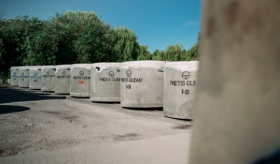 @Remacle
Reprocover : prefabricated solutions in RTS (Reprocessed ThermoSet) for rail infrastructure, roads and urban development (access chambers, valve protection, cables and drainage slabs). 2 times lighter than concrete, higher strength (shore D > 75), fire resistance class B, weather and sunlight resistant, reduced risk of electrocution, circular economy and recycling of thermosetting plastics.
RVC : digital optimisation of operational and administrative management processes for technical interventions for the building trades, in the office and in the field. A fully integrated, paperless solution, from the customer call to the transfer of the invoice to the accounts department, from the estimate to contract management. 
TEC Concept : high-pressure cleaning systems for the transport industry and expertise in wastewater treatment. 
Termico : gas burners for thermal conduction heating tubes for soil decontamination processes.
Verschuere Technology : machinery and equipment for the concrete industry, soil recycling machines. The TOPLIMER range sorts and recycles soil waste and spoil from trenches and earthworks. 
Pages