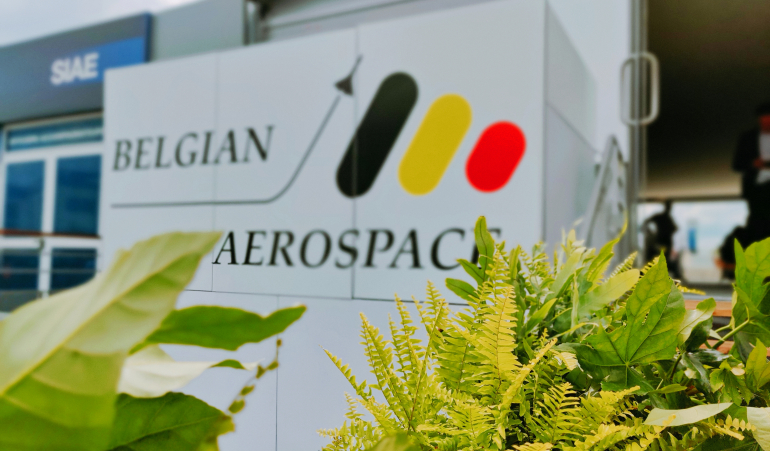 Decarbonisation, synthetic fuels and composite materials: carbon neutrality in the aviation sector was the number one issue at the Paris International Air Show (Le Bourget). Some of the 52 companies in the Walloon delegation at the Paris Air Show came to present their innovations designed to decarbonise the sector. We met with D-Carbonize, a company specialising in the reporting of industrial greenhouse gas emissions. This is an essential piece of the puzzle for both mapping industrial GHG emissions and proposing solutions to subcontractors and partners of major aerospace manufacturers to guarantee their compliance with ESG criteria. We spoke to Frederic John, COO of D-Carbonize. Meeting.
The 2023 Paris Air Show confirmed that the aeronautics market is both recovering and changing. The cancellation of the 2021 Show due to the global pandemic was symptomatic of the crisis the sector has been experiencing. It seemed stable and resilient, but the pandemic revealed some of its weaknesses and forced it to question itself. The situation has still not returned to normal more than three years after the first lockdown and productivity levels are recovering only very slowly. Aircraft production and delivery are still slow. Across Europe and beyond, the demand crisis has turned into a supply crisis, with a shortage of raw materials, components, equipment, transport, labour and production capacity on the part of suppliers.
For a more sustainable aeronautics sector
According to the European Environment Agency, aviation accounts for 3.8% of the European Union's total greenhouse gas emissions. Although fuel consumption per passenger kilometre has halved over the past 30 years, air traffic has increased almost fivefold. The associated emissions have therefore more than doubled. The European Parliament is aiming to reduce emissions by 55% by 2030 and eliminate them altogether by 2050 in order to become climate-neutral. Airlines, manufacturers and equipment suppliers are therefore working on solutions to meet these objectives.
The major manufacturers are reportedly devoting almost all their innovation projects to reducing the carbon footprint of their aircraft. Aeroplanes have become lighter thanks to composite materials, and engines are more fuel-efficient thanks to innovative digital control systems. The use of Sustainable Aviation Fuels (SAF) is also under development, but large-scale use is still a long way off. What's more, the resources needed to produce these fuels are already being used for other purposes, so supply will be well below (future) demand. In short, we're not there yet.
In summary, the industry expects green fuels and fleet replacement to have a significant impact in the medium term, but the long-term objective of total decarbonisation with the commercialisation of zero-emission aircraft in 2035 is still a long way off.
Total decarbonisation: Tools for taking action throughout the production chain
The 2,500 exhibitors at the Paris Air Show therefore came with new concerns and ambitions. Sector professionals need to find solutions to overcome structural difficulties, while at the same time meeting new consumer expectations and the demands of the European authorities in terms of the environment.
The Walloon company D-Carbonize, present at the Paris Air Show with the Belgian Aerospace delegation, talked to us about the challenges facing the sector and its solutions for helping subcontractors and manufacturers calculate and report their greenhouse gas emissions to their customers. Frederic John, COO of D-Carbonize, explained how to prepare for a trade show as a 15 person-strong SME going toe-to-toe with the world's biggest companies. 
Wallonia.be: Hello Fréderic, So, what do you make? Aircraft engines? Rivets?
Frederic John (FJ): Not at all. We don't make hardware, we offer tools for calculating and reporting greenhouse gas (GHG) emissions from the activities of manufacturers in all sectors, including aeronautics. We enable our customers to respond to the growing number of insistent requests from their partners, often manufacturers, for detailed information on the GHG emissions of their subcontractors. Today's aircraft manufacturers need to know the total emissions of their aircraft, not just in terms of fuel consumption, but also their components.
Wallonia.be: Is that why you are at the Paris Air Show
FJ: Absolutely. This sector is particularly concerned by its GHG emissions, and so we are here, on the one hand, to find out from the various industry players where they stand in terms of measuring their carbon emissions, and on the other, what their level of technical understanding of these issues is, how mature they are... To be clear, we are talking about the whole chain, from assemblers to producers of cables, rivets... not just airlines and engine manufacturers. Then, of course, we try to make ourselves known, present our product...
Wallonia.be: What do you offer that your competitors don't? Haven't these kinds of tools been around for a long time?
FJ: We have developed excellent expertise in industrial and manufacturing environments, unlike others who tend to specialise in SMEs, services, etc. Our product is well suited to considering the complexity of industrial companies to collect and collate data and produce dedicated reports. We offer a unique carbon auditing platform. Carbon footprints will soon have to be systematically audited and companies will have to be much more rigorous and precise. Our reports can be labelled directly, with all the internationally recognised certifications (e.g. Greenhouse Gas Protocol, ISO 14064, ADEME). This saves our customers a considerable amount of time.
Wallonia.be: So there's no room for greenwashing?
FJ : That's right. Everything will be calculable and justifiable on a recognised scientific basis.
Wallonia.be: So, who is your typical prospect here at Le Bourget?
FJ: It is the network of suppliers who supply our Belgian 'locomotives', if you'll pardon the expression, here in Belgium, such as Sonaca and Sabena. These companies are already well aware of the importance of keeping and presenting their carbon footprint. But a large part of their total balance sheet is made up of products or technologies acquired via their subcontractors. They therefore ask these subcontractors to take the same steps. These subcontractors need to adapt now if they want to stay in the game. And that's why we are here, to provide them with what they need. In short, they remain competitive, and at the same time anticipate future European legislation.
Wallonia.be: Are most of your customers Belgian or foreign?
FJ: Most of our customers are located in Belgium, but we operate in around ten countries for them, mainly in Europe, Africa and Turkey. This is quite logical, as our customers are industries, and once we have demonstrated the quality of our product and services on our home territory, they ask us to work with their units based in other countries.
Wallonia's WINGS programme to support the decarbonisation of the aeronautics industry
At the Paris Air Show, the Walloon Minister for the Economy, Willy Borsus, announced the one-year extension of the WINGS (Walloon Innovations for Green Skies) programme, an innovation cooperation partnership designed to support the ecological transition of this high value-added, cutting-edge industrial sector. The aim is to develop and support R&D activities to prepare for low-carbon aviation and work towards the aviation of the future. In line with the IATA proposal, the goal is to have fully carbon-free aircraft by 2050, and, as Airbus would like, a flying prototype by 2035. This extension will inject a further 20 million into the sector, on top of the 82 million already invested. The Wings initiative brings together 21 partners committed to decarbonising air transport, including three industry leaders (Sonaca, Safran Aero Boosters and Thalès), 11 SMEs and seven research centres, all working on the challenges of future generations of aircraft and engines and committed to decarbonising air transport.
Launched in November 2020, the programme has involved over 300 people in research and innovation projects, some of which have already produced concrete results. They include two initiatives by Liège-based engine-maker Safran Aero Boosters: a revolutionary heat exchanger for future aero-engine programmes, and the low-pressure compressor for the RISE project, a non-hub-cooled jet engine due to come into existence in 2035.
Pages