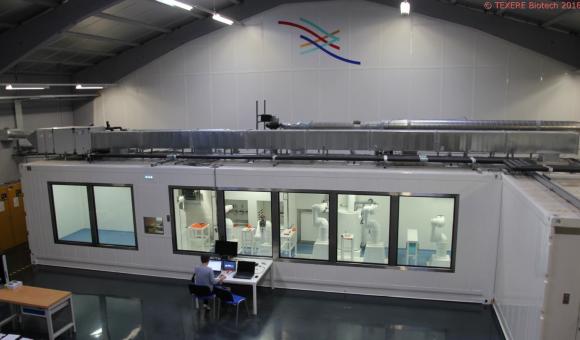 The COVID-19 pandemic is creating new challenges for tissue banks. The start-up TEXERE Biotech in Charleroi, which specialises in the handling of human tissue, has decided to validate its Bonefide® pathogen reduction process for enveloped viruses such as SARS-CoV-2. The process not only eliminates all risk of COVID-19 transmission for surgeons and patients receiving bone grafts, but also all risk of cross-contamination, since it is entirely robotised. It also ensures the absolute safety of those in the tissue handling chain.
TMBG™ (Texere Machined Bone Graft) graft samples were sent to TEXCell for evaluation, a research institution under special contract that specialises in viral tests, inactivation and viral safety. Viral inactivation or the elimination of enveloped viruses by at least 4.0 Log10 in two steps is usually thought to be enough. The final verdict confirmed that the Bonefide® physical treatment, chemical treatments and terminal sterilisation (through irradiation) eliminate/inactivate at least 11.0 Log10 of the virus.
"The COVID-19 pandemic has put a lot of pressure on the health system, and has increased the number of challenges faced by tissue banks at a time when we are seeing a 45% decrease in the amount of tissue donations. We are proud that, through our Bonefide® process, every donation can be used for the maximum amount of entirely safe bone grafts, and to be able to continue to produce tissue preparations while eliminating all risk of viral transmission for our staff, our surgeons and their patients," said Dr Denis Dufrane, the co-founder of TEXERE Biotech.
TEXERE Biotech was able to count on the support and contributions of the Federal Holding and Investment Company (SFPI-FPIM) and the Directorate General for Research and Technological Development for the Wallonia Region (DG06) in order to make these developments possible.
Linked events